Away From Home (Jermyn Street Theatre)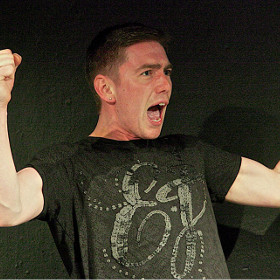 To create a play that challenges the institution of the nation's most loved sport takes not only skill but courage. Writing a play about a gay sportsman having a relationship with a rent boy should no longer be described as courageous, however in England there are other sports and then there is football.
Away from Home is a brave and skilfully handled story about an openly gay football fan, Kyle, who is also secretly a male escort and who becomes the paid-for, clandestine lover of a premier league football star. Both are hiding their true identities from those around them and they find comfort in each other until events unfold that test the depth of their connection.
Most aspects of English football for the typical fan, from 'stale ale' smelling pubs where fans congregate before games to the every-kind-of-phobic and offensive chants that rain down from the stands, are wrapped up in a particular notion of what being a man is. Homophobia plays a prevalent role in this idea of what makes a football-loving man. Not only is Kyle surrounded by these ideas of masculinity on his beloved match days, but he also has to deal with his father's lack of acceptance over his sexuality. The play charts the increasing disintegration of their relationship as Kyle fails to live up to what his father, a self-made man, wants, 'a son to be proud of'. Expectations and appearances also feature heavily in his professional footballer boyfriend's life and the question of whether it is actually possible to be an out male footballer is raised time and again.
To have only one actor and a simple messy bachelor pad set to bring this vibrant eight character story to life is a massive ask of Rob Ward. However, as a subject the actor feels passionate about personally, the co-writer flawlessly channels that passion into a high-octane acting master class. Whether he is capturing the hooligan in a nightclub or playing the camp as Christmas pimp, he crafts each with their own idiosyncrasies making them not only authentic but also familiar. The hour-long performance by Ward is a skilfully handled call to arms over a subject which clearly matters dearly to him and is well deserving of award recognition.
The intimate studio venue also contributes to the cheers and applause received at the end of the play as it makes Kyle's confessions feel like secrets shared.
Away from Home never tries to hide that it is a topical play, and on the back of recent football stars Thomas Hitzlsperger and Liam Davis coming out, the time is right for it. However, as it shows, the homophobia surrounding football is so deeply ingrained that sadly it may well still be relevant in a decade. It's a blessing then that the writing manages to capture so masterfully the camaraderie of the supporters to show that all hope is not lost.