Avenue Q (Greenwich Theatre)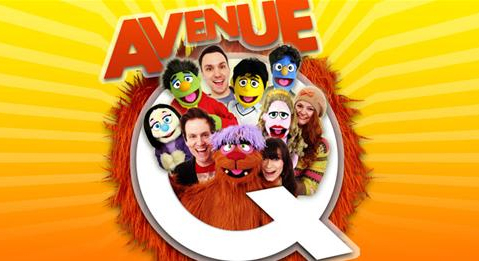 It's been ten years since Avenue Q premiered on Broadway and Sell A Door Theatre Company's UK tour revival is the first major production in this country since the show closed at Wyndham's Theatre in 2010. With such topically controversial material, does it still pack the punch it did a decade ago?
For the uninitiated – where have you been? – Avenue Q is a grown-up version of Sesame Street with music and lyrics from Robert "Book of Mormon/Frozen" Lopez. It follows newly graduated Princeton as he tries to find his purpose in life. Using puppets allows the show to tackle issues such as sex, racism and homosexuality in ways that hadn't been done on the stage before this production hit Broadway, or since.
As a production, Avenue Q is a very difficult show to apply your own touch to. From the licensed puppets to the animated visuals, from the setting to the specific caricatures of the residents of Avenue Q, it's almost paint-by-numbers for musicals. I've now seen four productions of the show, including an amateur production at the Dugdale Theatre last year, all have been almost identical.
The main challenge of this show is in the actors manipulation of the puppets. As an audience, we should forget the presence of the actors and almost believe the puppets are real, and this is something this company is best at. Stealing the show, Lucie-Mae Sumner as Kate Monster and Lucy the Slut is a big talent. Switching between the two polar-opposite characters with ease and confidence, her vocals are by far the best in a young but strong cast and she is definitely one to keep an eye on for the future. Also worthy of a mention is Stephen Arden who juggles the parts of Nicky, Trekkie Monster and Bad Idea Bear with aplomb.
This production is let down by its technical aspects. The lighting was sloppy, cues missed and areas of the stage not covered. Sound was equally in need of work, with microphone levels all over the place and again, missed cues. You could put this down to being early in the process and I hope that's the case, but I'd recommend artistic director David Hutchinson spends some of the £25,000, awarded to him by the Stage One Investment fund, on the technical aspects of the show.
A decade ago, the production won the hearts of many because it was dealing with issues that were close to home, in a way that hadn't been done before. But society has changed a lot in the last ten years and it feels like this show needs updating by the authors, to make it relevant again. Director Cressida Carre's attempts to do this fall flat, swapping a cassette for a CD but still singing "Mix Tape" doesn't work.
Does Avenue Q still pack the same punch? Maybe not. But it is a very funny show with a bevy of brilliant songs and with a few more performances to settle themselves in, this cast will probably get used to the standing ovation they received last night.