Aspects of Love review – Michael Ball can't change much in this problematic tale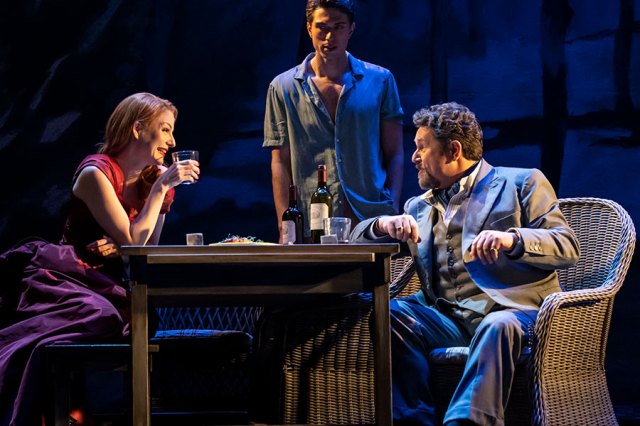 Aspects
of
Love
, Andrew Lloyd Webber's 1989 chamber musical that has returned to the West End in a lavishly reworked production, is overtly melodramatic even by his l
of
ty standards.
Centring on a
love
triangle between a young soldier, his uncle and an actress, it's based on the novella by Bloomsbury grouper David Garnett and is best known for its stand out number "
Love
Changes Everything", which helped propel the young Michael Ball to megastardom (I had it on a well-worn cassette back in the day).
Ball returns here to play the uncle, George, and the show has been rejigged by Lloyd Webber, lyricists Don Black and Charles Hart, and director Jonathan Kent to enable him to still sing the big number. He duly delivers it with lashings
of
his trademark vibrato, less as a romantic ode and more a nostalgic rumination. It's undoubtedly the evening's highlight, though I can't help wonder whether having to rewrite a show so your star man can sing the hit indicates there may be a fundamental problem with the show itself.
The narrative manages to feel both conventional and deeply, deeply weird. In postwar France, 18 year-old American Alex (Jamie Bogyo) becomes infatuated with Rose Vibert (Laura Pitt-Pulford) after visiting her dressing room following her performance in an Ibsen play. He takes her to a beautiful bohemian house belonging to his uncle George, who soon arrives and falls madly for Rose himself.
They all end up at George's apartment in Paris, where shortly after sleeping with her Alex shoots Rose in a scene so over-stuffed that Ray Cooney would blanch. However, this doesn't seem to dim their attraction and many years later, when Rose and George have had a daughter, Jenny (Anna Unwin), Alex returns to the country house and becomes the subject
of
infatuation himself from his young cousin, much to George's (and our) horror.
The show is almost entirely sung-through, with lyrics ranging in quality from lazy doggerel to moments
of
brilliance. The score certainly has merit beyond the central number, though it can't be denied there is a feeling
of
anticlimax once "
Love
Changes Everything" has come and gone. The cast – which also includes Danielle de Niese as George's fiery Italian
love
r Giuletta – sing it all superbly and the orchestra, who appear occasionally on a raised platform at the back
of
the stage, is sumptuous under the baton
of
Cat Beveridge.
Kent's mostly cogent production is notable for marking the long-awaited West End debut
of
legendary opera designer Jon Macfarlane, who serves up a selection
of
gorgeously painted flats that suit the show's exaggerated sense
of
romanticism. So it's rather baffling that scenes are demarcated by a sliding projection screen featuring shonky videos that depict a succession
of
cliché scenes (such as when the action moves to Venice and we get pigeons in St Mark's Square). The revolve is oddly employed too, at one point moving Ball to the back
of
the stage like a rejected gameshow contestant.
Perhaps one day there will be a boldly revisionist revival that proves
Aspects
of
Love
has merit beyond its central ballad. But as it stands the story is too problematic, and the characters so unempathetic (it's never a good sign when the audience laugh during a death scene), that it feels best to consign it to the occasional concert performance. However, it does at least provide the opportunity to pay homage to one
of
our greatest musical performers singing an undoubted modern classic.