Antony and Cleopatra (Shakespeare's Globe)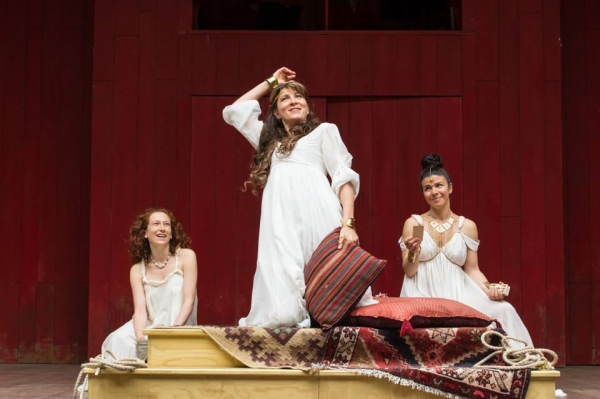 The gods are not looking favourably on the Globe season. After sickness struck the opening play of the season, this production was hit by an injury to its Lepidus, forcing James Hayes on the sicklist.
But the gods are poor judges because Jonathan Munby's production is a wonderfully clear and powerful interpretation of Shakespeare's late tragedy.
At the heart of it is the relationship between Clive Wood's Antony and Eve Best's mercurial Cleopatra. While this pairing is usually presented as a late flowering romance, there's a touch of peevishness to their relationship. When Antony muses on breaking it off, we can really sense the desire; he has the world-weary air of the middle-aged, itching to break free and fearing the consequences.
Best is a creature of moods: flirtatious one minute (even seizing on audience members), fiery the next. It's a bold performance as there's nothing particularly lovable about this tempestuous queen, but there are moments when we see real touches of her sense of fallibility: Her hearing of Octavia's age is met with total silence, broken only by the ripping up of the paper in her hand, expressing her silent anger; or there's the face she pulls when Antony addresses her as armourer of his heart, as if aware that terms of affection are cheap. While there's none of the exotic sensuality of other Cleopatras, it's a truly human portrayal and Best is always compelling.
Jolyon Coy's Octavius is even more of a cold, calculating machine than usual. His elegant demeanour makes him look like a refugee from Brideshead Revisited but he has the heart of a Robespierre. The Roman court is in his image – all stiff formality, a sharp contrast to the Bacchanalian excesses of the Egyptian, a difference heightened by Jules Maxwell's evocative music, all drones and drums for the Egyptians, solemnity for Rome.
Perhaps the only false note is struck by Phil Daniels' Enobarbus; while he captures the sardonic nature of the old soldier, there's little sense of the tragedy of the man who betrays his best friend. Special plaudits should go to Christopher Saul who stepped in at the last moment to replace the indisposed Hayes.
For more information on Antony and Cleopatra, click here