After last year's smash hit pantomime, this year's stars, The Chuckle Brothers (who will return next year as well), have a lot to live up to. But no fear, when they are on stage in Aladdin they have the audience in the palm of their hand. However, when they are not, the audience quickly lose interest and the trips to the toilet and chatter levels rise.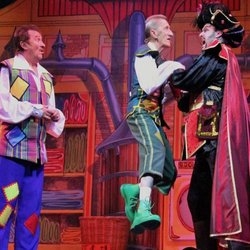 It is not the fault of the Chuckles, or panto regulars Philip Meeks (Widow Twankey) and Phil Corbitt (Abanazar), who have honed their craft over many years; they do their best with the material and direction they have.
Telling the story of young Aladdin who, because he is tricked by Abanazar, manages to have enough wealth to marry Princess Jasmine (Beth Stobbit), the production looks great, as all Qdos pantomimes do. It is the script and direction which sadly let things down.
From the start it is not until the Chuckles arrive on stage that the audience pay full attention to the show, but the closing musical number of Act 1, which is usually a big production number, appears weak with Aladdin's gown reminiscent of Joseph's coat in the Technicolor Dream Coat as it lifts off the stage.
Hopefully the show will settle down as the run progresses, with Gary Amers (Aladdin) settling in to his role as he is trying too hard to be liked at the moment.
There is a lot to like about the show, but it could be so much slicker and funnier. While appreciating the restrictions of the Civic stage, after last year we know how well panto can be done in this venue.
Aladdin continues at the Darlington Civic Theatre until 12 January 2014.