Chicken Shop (Park Theatre)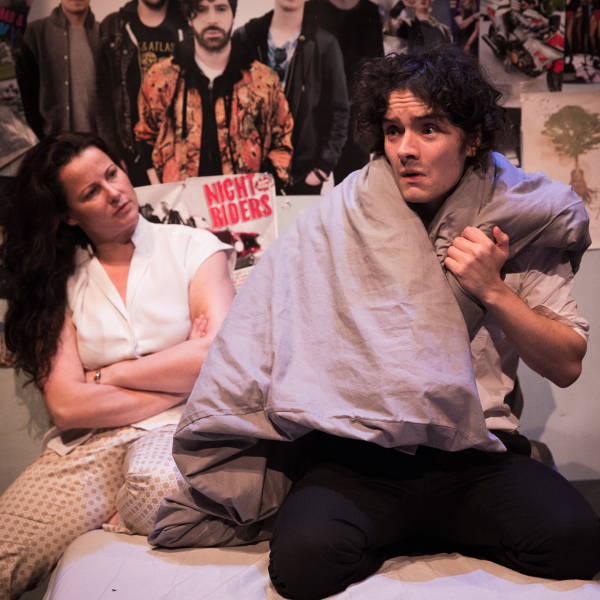 It's difficult enough being a 16-year-old boy at the best of times, but when you're named Hendrix (because your mum was into all that 60s stuff – you'd much rather have been called Dylan, or Mitchell) and you are grieving for the loss of a 'father' who left to ride a motorbike through Vietnam, but is actually a woman called Meg, who was your mother's previous live-in lover, then finding your feet in a crazy world is going to be just that much harder.
And when you finally admit to your mum that you're being bullied at school because the other boys think you're a 'batty boy', and you then let slip the fact that that's because Abdul and his dad saw your mum cavorting with her new live-in lover, Katy, in the IKEA car park, you know things are only going to get more complicated.
And they do. You seek some kind of rite of passage with a prostitute who operates over a chicken shop, and of course you're a bit scared of being a man, and you can't bring yourself to perform, but all you really desperately want to do is to get the burden of being a virgin off your back, so you at least know what the other boys – who have been on a jaunt to Amsterdam – are actually bragging about. And then of course you start to care about her. And you realise just what kind of a world she is living in, being trafficked from Moldova by a vicious Hungarian who owns the chicken shop downstairs and allows her to eat only chicken and see no daylight.
This is a coming of age play, first and foremost, but it's also about the intricate human links between people thrown together by circumstance. And as if that isn't enough, Anna Jordan's play slices boldly into the complexities of motherhood for a gay woman when her son is wrestling with sex and manhood.
As Hendrix, Jesse Rutherford gives a painfully convincing portrayal of a boy whose sensitive nature is being strained to the limit; he doesn't put a foot wrong and carries the play effortlessly. Equally impressive is Lucy Roslyn as the girl from Moldova, Luminita. Tall, angular, and trying hard to 'be sexy' for her captor, Leko, her euphoria and almost immediate anguish at finally being able to speak to her 10-year-old sister (or possibly daughter?) back home is heart-wrenching.
But this is an ensemble piece, and Angela Bull as the mother, Millie Reeves as the girlish, provocative new lover, and John Last as the chicken shop owner who is appalled to find fresh fruit in Luminita's bedroom, all give very strong performances.
The play's opening scene is over-stated, as if feeling the need to lay all the key cards on the table before you've had a chance to blink, and there is a slackening of tension before things pick up again with Hendrix's relationship with Luminita, but this is a fine piece of challenging theatre.