Transform 14 draws to a close (West Yorkshire Playhouse)
Transform 14 took over the West Yorkshire Playhouse – except for the Quarry Theatre – for a festival of "daring and innovative" theatre from 27-30 March. When I visited on Friday evening, An Audience with a Stranger was hosting one-to-one chats with writer/performer Sonia Hughes in the Foyer, audiences were heading to "a secret location" for Selina Thompson's It Burns it all Clean and the Minibus was already parked outside for the next day's story of coach travel (Cape Wrath, with an audience of 14). Rather conventionally, I guess, I limited myself – then and again on Sunday – to performances in the Courtyard Theatre.
First up was Fast Cuts & Snapshots, written by Inua Ellams and presented by Fuel as a rehearsed reading of a work in progress.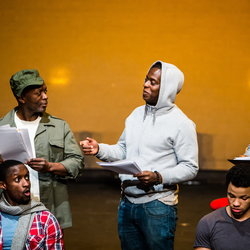 A barber shop in London caters to the African diaspora and, as it stands, six short scenes feature the three barbers and assorted customers played by three actors discussing such matters as disciplining children, attitudes to gays, politics and football in an apparently random manner until an actual narrative line develops.
"Africans don't drink," claims one character – hence no pubs – and that's why they have barber shops. The to-and-fro of saloon bar opinion, narrative and prejudice is well done and I imagine Ellams will be looking to develop this and the emerging story-line, while smoothing out the occasional text-book speechifying.
It struck me at Transform that the days of the writer pouring out his soul in a lonely garret, then picking up rejections until one day a theatre is foolish enough to take a chance, are long gone. Both examples that I saw of work in progress are being developed by West Yorkshire Playhouse, the National Theatre Studio and two other bodies.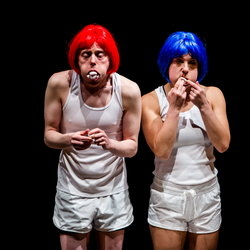 The Albemarle Sketchbook (seen on Sunday evening) is being developed by Chris Goode & Company towards a major piece on dreams to be staged in 2015. Here it is more difficult to predict where the work is leading. Parts of it involve spot-on timing with music, sound and lighting; others are inconsequential and improvised. At its best it conjures up the world of dreams beautifully via dance (Vivaldi's Four Seasons transformed is the music that links all together), solo narratives veering from impressionistic to the verbally surreal (shades of Samuel Beckett) and duologues around the staging of the dance work in Goode's dream.
The only fully realised work I saw was Gym Party by Made in China, a decidedly slicker affair, but still with an improvisatory edge. Jessica Latowicki (from New York), Christopher Brett Bailey (Canadian) and Ira Brand (British) – all excellent – take part in assorted games of physical skill and endurance such as, "How many marshmallows can you get in your mouth?" and bombard the audience with demands for consensus and teamwork while competing to be the best; i.e. the most loved.
A sad back-story always lurks and Gym Party – touring widely, though not, I think, imminently to Yorkshire or the North East – manages to be simultaneously sweet and sharp, silly and satirical.