The Full Monty (Noel Coward Theatre)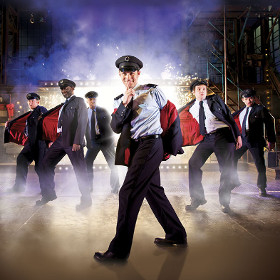 There must have been something gloriously proprietorial about director Daniel Evans bringing The Full Monty home to Sheffield Theatres when he presented Simon Beaufoy's script (which he adapted from his own screenplay) there last year.
The show now hits the West End, after a national tour, with a considerable thump, buoyed up with a brass band on the pavement outside the Noël Coward on opening night that made you think you'd come to see Brassed Off, the other Northern feel-good unemployment film of the mid-1990s.
Twelve years ago, London welcomed the terrific Broadway musical of the film by Terrence McNally and David Yazbek in which the redundant Sheffield steelworkers shuffled off to Buffalo, New York, before stripping down to their assets in a dazzling white-out (same effect here).
So Evans's reclamation is cultural as well as geographical, and there's no messing with that as a bust of Margaret Thatcher is given a spit and polish (more spit than polish, to be fair) in the Conservative Party HQ at the top of the evening.
And designer Robert Jones has provided a vast adaptable grey steel construction that serves equally well as an abandoned workplace, dismal job centre and a sort of penitential institution ideal for the prison officer strip routine in which the ill-assorted sextet of losers shed their kegs with a thong in their art.
For although Beaufoy's vividly unsubtle script touches on issues of impotency, suicide, incipient gay fulfilment, economic hardship and loss of self-esteem, the show is really a full-on blast of crude popular theatre in the great Northern tradition of Alan Bleasdale, Willy Russell and Alan Plater: those hob-nail boots are made for walking, and male strippers don't necessarily have to reveal glistening torsos and six-packs like the Chippendales. Women have "knockers" and doorknobs are different.
The great moment of a distracted chorus line in the job centre seduced into movement by Donna Sumner is intact, while the first signs of turning things round in a recession are perpetrated when Kenny Doughty's ebullient Gaz – whose own spirit is fuelled by the young son he's in a custody dispute over – puts his arm round Craig Gazey's hilariously dejected Lomper; Lomper's broken into the factory to hang himself from an idle crane.
Gaz is already "inside" to try and make off with a steel girder, aided by Robert Morlidge's paunchy Dave, the most surprising of all the surprise packets in the line-up. The most obvious of the lads is Kieran O'Brien's feisty Guy, who memorably ends the first act with a proud and cheeky exclamation of "I can't sing, I can't dance…but I've got this!" (you fill in the stage directions).
This counters the observation of Sidney Cole's morose and inappropriately named Horse, crippled with arthritis: "What use is a big wanger if you need a zimmer frame to flaunt it?" Wise words indeed, but of course Horse like the others soon loses his self-pity along with his inhibitions, once they've persuaded Simon Rouse's downbeat Tory ballroom dancer to plot their routine.
Another aspect I hadn't noticed before are the questions asked about grossness. The sight of Elaine Glover's Bee relieving herself against a wall – first onstage female urination, methinks, since Jane Horrocks's Lady Macbeth – is curiously disturbing. And Rachel Lumberg's outsized Jean counters Dave's obesity embarrassment with a fake assurance that beastliness is next to godliness.
Finally, on the same night as Channel 4 broadcast its first documentary on Strippers (my son directs the second one next week), you also wonder how hollow, or meaningful, is the climactic act of empowerment? And is this sort of self-reaffirmation any sort of substitute for finding a proper job in a decent society?
Come on our hosted WhatsOnStage Outing to The Full Monty on 11 March 2014 and get your top-price ticket, a FREE programme and access to our EXCLUSIVE post-show Q&A with the director, Daniel Evans, and members of the cast – click here for details