The Dead Dogs (Print Room)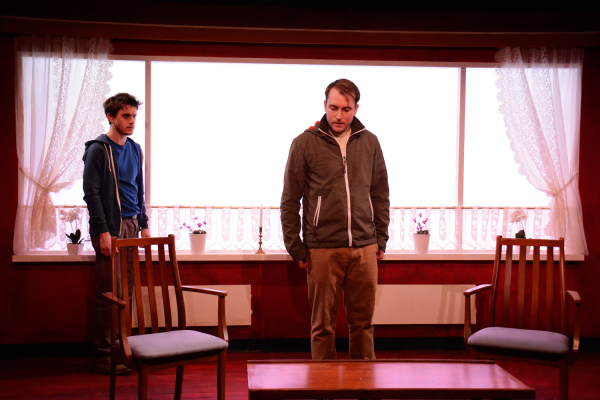 The Dead Dogs is a title that suggests we're in for a rough ride. And sure enough, the play offers a bleak, comfortless vision of a fractured family whose lives are brought to a shuddering halt following the death of a pet dog.
Written in 2004 by acclaimed Norwegian playwright Jon Fosse, its UK premiere is currently at The Print Room in a translation by May-Brit Akerholt.
Designer Libby Watson creates an introverted and claustrophobic atmosphere within the home shared by the emotionally damaged Young Man and his Mother, who's waiting anxiously for a visit from the Sister and Brother-in-law.
The action takes place in the sitting room. A huge picture window offers the family a coldly-lit view of the outside world that we don't share, except through their running commentary about what's happening across the road.
The characters are potentially interesting, and there's plenty of scope in the plot, but sadly none of this is fully realised. It may be that the play suffers in translation but this seems unlikely, given that the dialogue is so repetitive and choppy.
Nor is the drama helped by the long, long pauses that fill out and slow down every scene. Director Simon Usher has followed Fosse's stage directions minutely in this respect, but it's asking a lot of his audience.
Despite this, Valerie Gogan is excellent as the Mother, cloaked in careful cheerfulness despite the years of thankless caring. Jennie Gruner also produces an impressive performance as the cool and cautious Sister, who visits with a reluctance that isn't really explained. Nor is it clear why mother and son loathe the Brother-in-law, who seems affable enough as played by Sam Redford.
By the end of the play, Danny Horn's wild-eyed Young Man knows his number is up. He's confessed to avenging his dog's death, but is still unable to respond to his mother's tearful pleas for him to talk to her about what's happened.
At this point it's possible to find parallels with Ibsen's Ghosts, another Norwegian drama about a devoted mother trying to help her doomed son in the face of an unspeakable future. But unlike the passionate Mrs Alving, this Mother does what any sensible woman would do when her boy is off on a long journey. She dries her tears, makes him a packed lunch and provides a change of clothes.
There's no one else to help, after all. The Sister has nipped off before she can get roped in, and the visiting Friend does the same. The ill-starred mother and son accept their fate is sealed and know exactly what's coming. But whether any of this is enough to make a fulfilling theatrical event is much less certain.
The Dead Dogs continues at the Print Room until 12 April 2014