Special Measures comes to Liverpool's Royal Court, 4 April
Later this week sees the arrival of a new comedy from the writer of Eric's, Taboo and The Liverpool Nativity – Mark Davies Markham.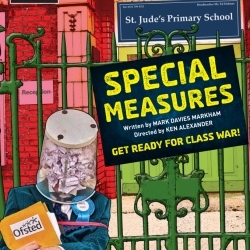 Special Measures is set in an ordinary Primary School in Netherton, which has just suffered an Ofsted inspection. The inspectors deemed them a failing school and have put them into Special Measures. A showboating Tory MP arrives for a photo op at the school and starts picking holes in the staff. It all becomes too much and it's time for the hardworking teachers to strike back.
The play features Paul Broughton, Eithne Browne, Stephen Fletcher, Jessica Guise, Colin Hoult, Adam Search, Angela Simms and Michael Starke, with Ken Alexander directing the piece.
The writer draws on his experience as a Special Needs Teacher. Mark Davies Markham says: "It's a comedy with a political bent which I've really enjoyed writing, and massively enjoyed working with the great Liverpool Royal Court team.
Kevin Fearon, producer and Chief Executive of Royal Court Liverpool, is producing the show. He says: "This is a comedy that tells it how it is and makes some serious points in amongst the jokes."
Special Measures runs at Royal Court Liverpool from 4 April to 3 May 2014