Sizwe Banzi is Dead (Theatre Royal, Plymouth)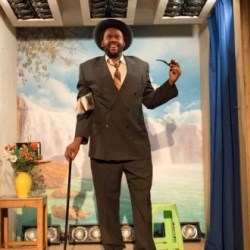 A play of two halves.
Tony award-winner Sizwe Banzi Is Dead belies its age. First staged some 40 years ago, the tale of 1972 South Africa but is as fresh now as it was then.
Even if apartheid is officially ended, writer Athol Fugard (with original actors John Kani and Winston Ntshona)'s stark message remains true today: "A black man stay out of trouble? Impossible… Our skin is our trouble."
Hyemi Shin's set couldn't be more simple – sheets of numbered ply, a table and a bit of corrugated iron – throwing all the attention on the talented duo.
The charismatic Tonderai Munyevu is superb as Mr Styles romping through an upbeat first 50 minutes or so regaling the audience with acted tales of his family and daring move from a good job at the local Ford car factory to self-employed photographer capturing moments in time for posterity. Or for a reference book – the all-defining identity books all blacks had to carry and which dictated their fortunes.
The personable snapper has us laughing out loud, enjoying his take on world news, petty bureaucracy, and the lives of his customers and Port Elizabeth neighbours.
Into his studio comes a gauche punter, dressed to the nines and missing his wife.
Sibusiso Mamba plays a totally believable Sizme Banzi – the illiterate father-of-four desperate for a wage to send back to his poverty-stricken home. But his passbook has been endorsed and his dreams ground beneath the official stamp.
And so the piece swiftly sobers up. The pace drops, the mood plummets and unfortunately interest wanes.
The remaining – long – 30 minutes or so introduces the darker side of the city of promise.
Already late to report back at an office 150 miles away, Sizme is in trouble until the world-wise Bantu (the versatile Munyevu excellent in a more sombre role) who stumbles on the magic wand – but Sizme has to give up his identity to realise his ambition.
An interesting dilemma and well explored but overlong despite absorbing performances from Mamba and Munyevu, and tight direction from Matthew Xia.
– Karen Bussell