Shock Treatment (King's Head)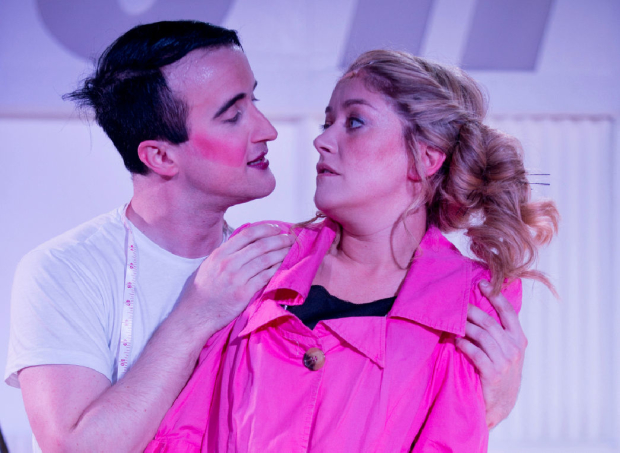 Never heard of
Richard O'Brien
's
Shock Treatment
before? Well, you're not alone. When originally released as a film sequel to O'Brien's cult classic
The Rocky Horror Picture Show
, it failed to make an impression – one would imagine due to the severe overload of characters and complicated plotlines.
All these years later, then, it has resurfaced, the stage rights finally granted with the proviso that it be put on at a small venue (after all, Rocky Horror originally premiered Upstairs at the Royal Court). Hence, then, the King's Head, where artistic director Adam Spreadbury-Maher cheerfully got into the swing of things on press night in fishnets and a rather dashing blue dress.
So, what's the plot? Well, we meet the easily led Brad and Janet post-Rocky Horror. With a marriage experiencing some strain, they're lured to a freakishly bland TV studio by 'friends' Ralph and Betty Hapschatt (remember them?), and chaos and creepiness ensues. When psychotic doctor siblings Nation and Cosmo McKinley turn up with a needle full of something unnervingly green and awfully potent, we know we're in for a 'rocky' ride. Will Brad and Janet's relationship survive this next setback, or will Janet "drift into the treacle deep", never to return?
'There are some strokes of casting genius'
The star of the show here is adaptor Tom Crowley. A graduate of the King's Head trainee director scheme, he's taken a mish-mash of O'Brien's characters, pared them down to the most important, and done exactly the same for the plot. While it still doesn't always make exact sense, he's managed to create a strong arc and given everyone something to work with, though it's a shame Ben Kerr doesn't have more to do as Brad.
There are some strokes of casting genius from Liz Bichard, particularly when choosing existing duo Nic Lamont and Adam Rhys-Davies (both great, laconic fun) to play Nation and Cosmo (sample quote: "Did you miss us? If so, you may be suffering from abandonment issues"). These are roles originated by O'Brien and Patricia Quinn, so it's little surprise that director Benji Sperring sent this pairing half-way down the Riff-Raff and Magenta route.
It's a strong cast all round – Julie Atherton enjoyable as ever as the weak-willed, super-sexual Janet, while Rosanna Hyland is charming and on point as troubled Betty. As vile station owner Farley Flavours, Mark Little may lack vocally, but he certainly exudes plenty of vim and vigour. And as Betty's closeted, diva husband Ralph, unable to untwine his sexuality from his success, Mateo Oxley is the glue that holds the cast together. His character might be a caricature, but he brings real heart to it.
There are still some pacing, enunciation and projection problems to be ironed out, which means a couple of the numbers don't land as well as they could, and Sperring's direction does become a little loose towards the end. But overall, this is a fun, light show and a worthy follow-up to Rocky, mainly thanks to the sterling efforts of its creative team. Just don't forget it's a late start…
Shock Treatment is at the King's Head Theatre until 6 June 2015