Review: The Box of Delights (Wilton's Music Hall)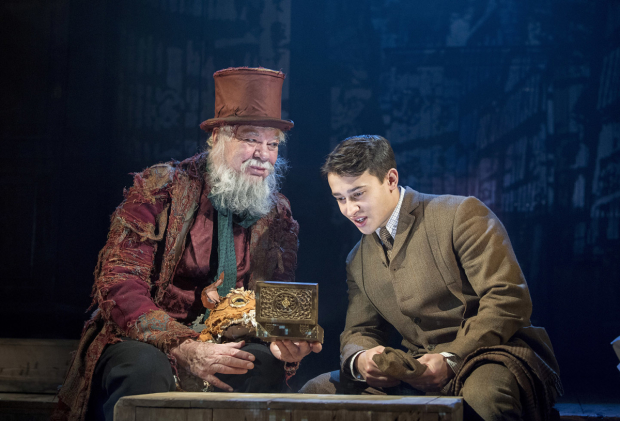 There's a particular excitement about seeing something that you'd assumed to be unstageable, successfully coming to life in front of you. It's even more delicious when you are in an intimate space, close enough to almost touch the actors and see exactly how much of the rough magic is achieved. So it proves with this first ever stage version – in the uniquely atmospheric Wilton's Music Hall – of John Masefield's beloved 1935 novel The Box of Delights.
A precursor to the Narnia books, Philip Pullman's His Dark Material trilogy and the Harry Potter series – but surely an influence on all three – Masefield's eccentric, wildly imaginative novel subversively placed children in control of the central story for the first time, rather than under the supervision of upright adults. It also features two formidably strong female central characters: one on the side of good (the mouthy, tomboyish 13-year old Maria, played with relish here by Safiyya Ingar), and the other decidedly not (the apparently classy thief-witch Sylvia Pouncer).
Most importantly though, it makes a damn good festive romp, as recently orphaned Kay Harker (Alistair Toovey, winningly earnest) sets off to save Christmas from an evil, shapeshifting sorcerer and his sinister cohorts, with the help of his best mates and a magical, much sought after 'box of delights', which allows him to time travel and make himself tiny in order to eavesdrop better.
If Piers Torday's nimble stage adaptation feels a little over-stuffed with information at times – which may prove problematic for very young children – it is fast-moving, with flashes of irresistible off-the-wall humour: at one point the two women have a competition to see who can assemble a gun the quickest; Pouncer wins then declares "I was raised by nuns… they were very keen on self-defence." At another, there's a very funny scene where carol singing clergy are systematically picked off by the baddies until they realise there aren't enough of them left to even get through "We Three Kings Of Orient Are".
Justin Audibert's classy, evocative production contains a wealth of things to enjoy, from beautiful Frantic Assembly-esque movement by Simon Pittman, to endlessly watchable, transformative use of video by Nina Dunn. Kids will no doubt adore the puppetry, while adults will marvel at the way that Tom Piper's design – all drapes, antique wood and ladders – melds so seamlessly with Wilton's shabbily gorgeous space, and is exquisitely lit by Anna Watson. Many of the special effects are as simple as they are staggeringly vivid: an extravagance of blue cloth tumbling from the flies becomes a life-threatening flood, while wardrobes become prisons or portals to another world, it's all exquisitely rendered. Ed Lewis' music wonderfully combines an epic movie-soundtrack sweep with much-loved Christmas favourites.
Matthew Kelly is on glorious scenery-chewing form both as the kindly old magician who sets Kay off on his adventure and as his snarling, genuinely alarming nemesis. Josefina Gabrielle is a hilarious, gorgeously seductive baddie as the slinky, not-as-posh-as-she-looks Pouncer, and also doubles touchingly as Kay's ditzy guardian. This is luxury casting, and both performers would be worth the price of admission by themselves.
The first act could bear to have ten minutes trimmed off, and the storytelling might be a little more streamlined, but ultimately this is a truly charming festive treat that will thrill the kids while entrancing the adults. Recommended.
The Box of Delights runs at Wilton's Music Hall until 6 January 2018.