Review: Pelléas et Mélisande (Garsington Opera, Wormsley Estate)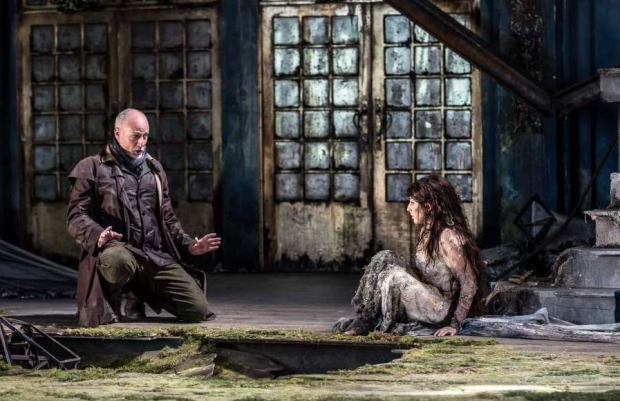 When my companion said "The Munsters", I was lost. Debussy's only opera, an achingly spare adaptation of Maurice Maeterlinck's symbolist play, has such delicacy that an ill-advised production idea can send it crashing. Small wonder, then, that the most memorable recent performances of Pelléas et Mélisande, in Britain at least, have been concert versions.
On some levels, Michael Boyd's new production for Garsington Opera is one of the most probing I have seen. It's replete with character insights and has an intellectual sympathy for both play and score. But, catastrophically, he and designer Tom Piper have set it in a ramshackle mansion: a ruined, long-deserted pile with broken banisters, rusting metals doors and stagnant water rising beneath rotting floorboards.
So they're all ghosts, then.
That's a conceit that might work with A Midsummer Night's Dream, say, but it tramples all over Pelléas et Mélisande. You can see why Boyd thought of it: the notion creates chills when Pelléas says "The house is coming back to life" and when he tells Mélisande "Your voice comes from the farthest corner of the world". But these are novelty chills, cheaply earned.
The set and lighting are so insistent that Debussy's opera is not so much refracted as extruded through Boyd's concept. And Pelléas et Mélisande, the superficially simple tale of a damaged young woman who is discovered alone and frightened, marries her rescuer and then falls in love with his brother, is too elusive to survive such an idea. The work is like a spray of zest rather than the fruit you bite into: fragrant, evanescent, irresistible, intangible.
'A wholly credible Mélisande'
Inside Boyd's 'I see dead people' aesthetic there were two central performances of superb musicality and charm. Jonathan McGovern and Andrea Carroll made a credibly youthful pair of protagonists whose technical delivery and understanding of Debussy's idiom were exemplary. The baritone is a known quantity – he scored a personal triumph as Pelléas for English Touring Opera a year or two back – while the young American soprano is the most wholly credible Mélisande I have encountered. She is young enough to play convincingly with little Yniold (an unusually busy child in this staging and well sung by William Davies), and her journey from distraction to moribund serenity was genuinely tragic. With her ankle-length hair extensions Carroll charted a flowing, Pre-Raphaelite course through the opera.
Paul Gay's burnished bass-baritone presence as Golaud was welcome, but he lacked a kind legato and the production gives him little scope to explore the man's ambivalence. Susan Bickley was immaculate as usual in the small role of Geneviève, Brian Bannatyne-Scott a disappointment in the more developed one of King Arkel. The Scottish bass sang his notes sweetly but inflected them with practically nothing.
This was the Philharmonia Orchestra's house debut in the pit, and under Jac van Steen's unfailingly sensitive and idiomatic baton it delivered a performance to match last year's Aix-en-Provence triumph with Esa-Pekka Salonen. (Now that was a Pelléas. Katie Mitchell at her finest.)
There is a theatrically questionable moment in this production when Yniold loads an arrow into his father's crossbow and points it at the audience. It is hard to remain absorbed in an opera when something like that happens, and it put paid to any doubts that on this occasion Boyd has shot his bolt.
Pelléas et Mélisande runs in repertory at Garsington Opera until 7 July.