Review: Marnie (London Coliseum)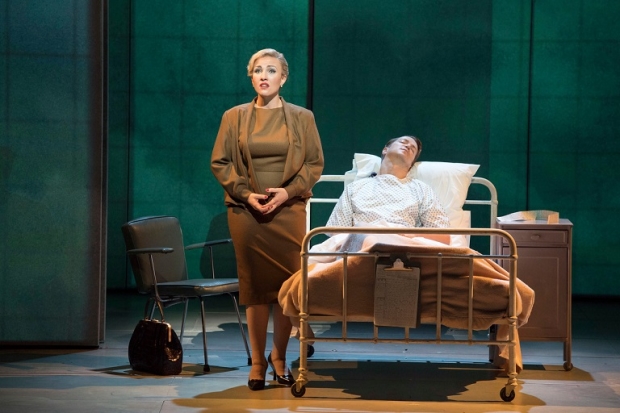 It's an inspired choice of opera subject, Winston Graham's thriller, with its churning psychological mysteries and ever-loosening wheels within wheels. The puzzle was why no one has thought of it before.
Now, sadly, there's a new puzzle: what went wrong?
It's not the production. Director Michael Mayer fills the Coliseum stage impressively, and the interplay between set and video designs (Julian Crouch and 59 Productions share the credit) is state of the art without being showy or distracting.
A nod, too, to English National Opera's incoming music director, Martyn Brabbins, for delivering an assured premiere and, in a splendid gesture, for marking his first outing by bringing the entire ENO Orchestra onstage for a curtain call. Their first-night performance was exemplary, with a near-ideal cast and the ENO Chorus on roaring form.
As an opera, though, Marnie misses every turn. Whereas Alfred Hitchcock's 1964 film version deviated from the source novel in cine-literate ways, composer Nico Muhly and librettist Nicholas Wright have returned to the original. The result is less a musical thriller than a verbose trudge that's driven almost entirely by text while the score tags along in its wake.
The premise is promising. A glamorous but damaged thief, torn by self-loathing, changes identity wig by wig as she fleeces a succession of employers, until fate confronts her in the shape of a handsome man. Alas, though, in lieu of bold reinvention the opera trundles dully through a succession of suburban English settings.
'A moan for the misbegotten'
What a missed opportunity for expressionism, and for the exploration of interior emotions. There are hints of what might have been in the presence of four 'Shadow Marnies' but their function is barely touched on. And once a set of gents in trilbies start writhing around, you realise how forlorn has been director's struggle to bring the thing to life.
Essentially, the libretto is just another play from the author of Vincent in Brixton and the adaptor of His Dark Materials. It's weighed down by soliloquies and idle chat. Muhly's musical language adds little: it is immediately attractive, but that does not make it operatic. Typically he traces long, slow phrases over bubbling woodwind accompaniments, pottering along behind Wright when he ought to have be saying 'hold my beer'.
If this reads like a moan for the misbegotten, let's at least cheer ENO for putting its faith in a new commission that celebrates its chorus, and for performances by Sasha Cooke in the title role, Daniel Okulitch as her suitor, Mark, and Lesley Garrett as the latter's controlling mother that could hardly be bettered. The excellent James Laing plays Mark's ne-er-do-well brother; it's good to see a countertenor land a character with balls. With strong cameos from stalwarts like Alasdair Elliott and Diana Montague, Muhly is a lucky composer indeed.
Hitchcock's screen version of Marnie boasted a pent-up score by Bernard Herrmann which hit all the bullseyes that ENO's composer misses. But the young American is not the first. There's a graveyard out there that's littered with the corpses of recent operas whose music illustrated text when it should have been the storyteller. Here's another.
Marnie runs in repertory at the London Coliseum until 3 December.