Princess Caraboo (Finborough Theatre)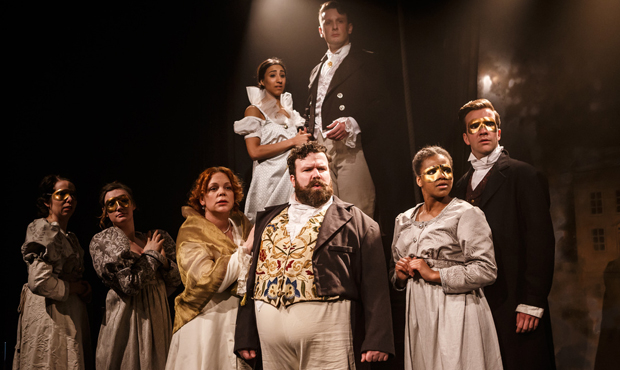 Hard to deny that home-grown musicals have taken a wrong turn lately. There hasn't been a runaway success since Billy Elliot, a phenomenon that triggered a raft of increasingly pale imitations ripped from gritty British screen comedies. The fad seems to be on the wane, but it's a lesson overdue for learning that you can't make hits by committee. As William Goldman said of the Hollywood moguls, nobody knows anything.
Maybe not, but Phil Willmott might be onto something with Princess Caraboo. For his latest show this torch-bearer for J. M. Barrie-style whimsy has mined not films or novels but an historical curio from the 1820s, and it's tailor-made for a musical treatment. Romantic, exotic and deceptive, his story of fake royalty has it all. Just add songs and stir.
Our genial host Sir Charles Worrall (Phil Sealey) takes us back to the day a mysterious waif sought shelter at his stately pile and claimed to be an exotic princess. He was taken in, as was everyone else, because it was a tale they all wanted to believe. Enter the cad, the bad and the lover (a mix of real and fictional characters) to propel the plot.
Willmott the director treats his own opus to a vibrant production by a company of ten (although it was written with a bigger cast in mind) who fill every crevice of the tiny stage and deliver some nifty choreography, courtesy of Thomas Michael Voss, to complement their rich characterisations. Sarah Lawn exudes warmth as the kindly but gullible Lady Worrall and Christian James is an attractive sap as the romancer who first learns the heroine's secret; but it's Oliver Stanley who has the most fun as Lord Marlborough, a sexist cartoon relic with the blood of Flashman and Flashheart in his veins.
Princess Caraboo isn't perfect. The plot sags in the middle, some of Willmott's songs – co-written with Mark Collins – are derivative while others suffer from earthbound lyrics (though there's some great harmony writing for the ensemble), and the playwright's decision to blow the whistle on his eponymous fake within seconds of the start deprives the show of early tension and forfeits the opportunity for a coup. A pity, since the expressive Nikita Johal's animated countenance as Caraboo before the balloon goes up is a joy to behold. She'd have had me fooled given half a chance.
Putting reservations aside, this is an ambitious, imaginative and robustly enjoyable new work that benefited from early development at the Bristol Old Vic and is far stronger than Willmott's previous Finborough outing, Lost Boy. There's terrific musical accompaniment from a trio led by Freddie Tapner, too. With only fifty seats per performance Princess Caraboo will quickly sell out through word of mouth. So catch it while you can.
Princess Caraboo runs at the Finborough theatre until 22 April.