Northern Broadsides production nominated for UK Theatre Awards 2014
Halifax-based theatre company Northern Broadsides' co-production of Deborah McAndrew's play An August Bank Holiday Lark has been nominated in the Best New Play category at the prestigious UK Theatre Awards 2014.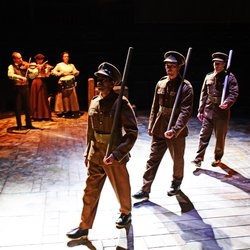 On hearing of her nomination McAndrew said, 'This is one of those ordinary days that became extraordinary in a moment. I was in the hairdresser's and suddenly my email and social media was buzzing with the news. Everyone knew about it before me and it all felt rather surreal; I couldn't jump around because I was in a very public place with a wet towel on my head.'
Northern Broadsides artistic director Barrie Rutter and director of An August Bank Holiday Lark added: "This nomination will thrill all at Northern Broadsides and the New Vic, teamwork and imagination! From the pen of Deborah McAndrew, the feet of the Greenmill cloggers and the tunes of the village lasses many thanks for the nomination."
Northern Broadsides work is characterised by a high degree of theatrical inventiveness and robust performances from a large ensemble cast of Northern actors who all perform in their natural voices. For the past 21 years, they have entertained audiences here and abroad with a growing classic repertoire which have won them many awards.
The other nominated plays in the category are Pressure by David Haig (a Chichester Festival Theatre and Royal Lyceum Theatre, Edinburgh production) and Revolt, She said. Revolt Again by Alice Birch (a Royal Shakespeare Company production at The Other Place and the Royal Court).
The Best New Play Award will be announced at a lunchtime ceremony on Sunday 19 October at Guildhall, London.
Northern Broadsides are currently on tour with their acclaimed production of She Stoops to Conquer. The production will be in Scarborough, Leeds, York and Huddersfield between 21st Oct – 6 December.