NippleJesus (Rondo Theatre, Bath)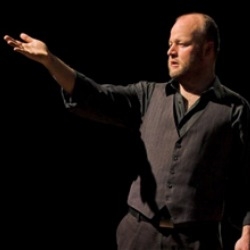 Originally written as a short story by award-winning author Nick Hornby (About a Boy, High Fidelity) and adapted for the stage by Shane Morgan, NippleJesus is a curious tale. The monologue oversees the challenges and opposing opinions caused by art, through the eyes of a man who begins with very little interest in the matter.
Beginning prior to the audience taking their seats, our chaacter sits on stage, eating his way through a meal deal and reading the paper. The plot follows Dave, an ex-bouncer, who becomes an art gallery warden. His first assignment in his new role is to protect a controversial picture of Jesus, which is made up of hundreds of nipples extracted from pornography magazines.
The one-man production is acted solely by Shane Morgan for a small audience and the monologue feels like an intense conversation with an old friend. Hornby's perceptive analysis of human behaviour and emotional connections, with both each other and physical objects, is well suited to the stage and Morgan did a fantastic job of portraying each character accurately.
One of the strongest uses of imagery came in the description of NippleJesus' artist Martha, whom our protagonist develops an inappropriate crush on, through spending vast amounts of time with her artwork.
Dave's crush on the young artist Martha, which develops through his interest in her work, is reminiscent of various other Hornby mid-life crisis themes. Morgan's depiction of Dave's turmoil and hatred of the image gradually chipping away and being replaced by his love for the artwork, spurred on by his crush, is second to none.
The selection of music chosen for the piece is sublime, including the likes of Grinderman, The Black Keys and The Charletons. Whilst there is no need for any set in particular, other than the odd table and a hanging onion.
Laced with wit and intricate descriptions of the world, , the story, and its execution will not fail to impress.
– Hannah Sweetnam