Merit (Theatre Royal Plymouth)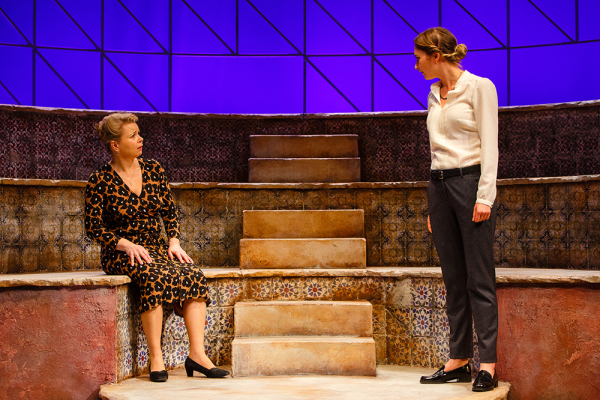 Apparently it's hard to go through life without killing someone.
Agree or not, 2007 George Devine Award for Most Promising Playwright winner Alexandra Wood's new two-hander strips down this premise with some surprising results.
Starting as a short piece written for PIIGS as part of Open Court at the Royal Court, in which playwrights explored austerity and the hardest hit EU countries, the Theatre Royal Plymouth production is an intense episodic 80 minutes of relationships laid bare.
Wood's dialogue is compelling and thought-provoking with flashes of humour amid the escalating tale of neediness and emotional blackmail, while director Jennie Darnell keeps a tight rein on rhythm and cadence to keep the attention.
Sofia (Lizzie Watts) is proud of securing a job – a rare thing in this world – even if that means stepping into the darkside and working in the despised world of banking. Feisty and faithful, her altruistic intentions are undermined by familial duty as she grows from naivety and sensibility to role-reversal maturity and prudence – and back.
Mother Patricia (Bad Education's Rebecca Lacey) is suspicious of just how her daughter secured the post with too-good-to-be-true Antonio but is glad to take the tainted cash to keep the family afloat in austere times.
Constantly playing the family card, desperation to ensure her daughter has not sold out to the allegedly rapacious banker is outweighed by financial need and all the while the plan is to bite the hand that feeds.
Set on designer Matthew Wright's amphitheatre-esque construction, some ten scenes tell the tale of financial crisis, mother-daughter relationships, manipulation, and how gratitude soon evolves into expectation. What's missing is any significant depth to its premise that extreme times warrant extreme measures, which would bear further scrutiny.
But nevertheless it's an interesting piece with convincing characterisation and dark underlying themes.
Merit continues until 14 February