Lulu – A Murder Ballad (Bristol Old Vic)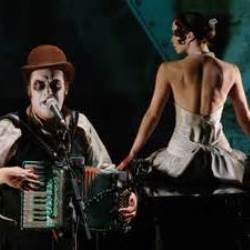 There are many good reasons to go and see Tiger Lillies' Lulu – a Murder Ballad during its brief visit to the Bristol Old Vic; singer-songwriter Martyn Jacques' incredible falsetto voice accompanied by the brilliant and versatile musicianship of Adrian Stout and Mike Pickering – all three white faced and appearing other-worldly. On top of this is Mark Holthusen's beautifully designed staging and ingenious use of projection on gauze screens where dancer Laura Caldow plays out the tragic life of the eponymous Lulu. All the elements seemed to be in place for a dark immerse piece of theatre, but unfortunately the one weak element is the story – or rather how the story is told.
Based on Frank Wedekind's macabre and haunting tale, the show tells the story of Lulu sold into sexual slavery/prostitution from a young age by her ruthless and creepy Father Shig. Corrupted and always a victim of others, we watch as Lulu becomes a seductress, a murderer and finally the ultimate victim at the hands of Jack the Ripper.
The gothic subject matter seems a perfect fit for the sinister looking troupe, who have gained wide-spread acclaim for the unforgettable Shockheaded Peter, but during Lulu I found myself largely unable to emotionally connect with what was happening on the stage. The disconnection is mainly due in the way the show is staged, with the three musicians standing at the front centre stage while Caldow silently enacts events in various settings behind the gauze screen. The two elements feel separated – which might well have been a deliberate decision – but with the main focus on the band I found it hard to be immersed in the protagonist's plight.
At various points, Lulu is described as a bird in a cage, and although portraying her as a silent victim makes sense, the unseen characters who contribute to her miserable life are sparsely drawn in the descriptions of them, so it begins to feel like a series of names rather than distinct individual characters. The only character who really comes alive is Jack the Ripper towards the end of the show, and I was left wishing the earlier characters were as vividly evocated.
There is though enough talent and spectacle on stage to justify buying a ticket and hopefully next time if all the strands work together equally then Tiger Lillies could produce something truly special.
– Simon Harvey-Williams