La bohème (Opera Holland Park)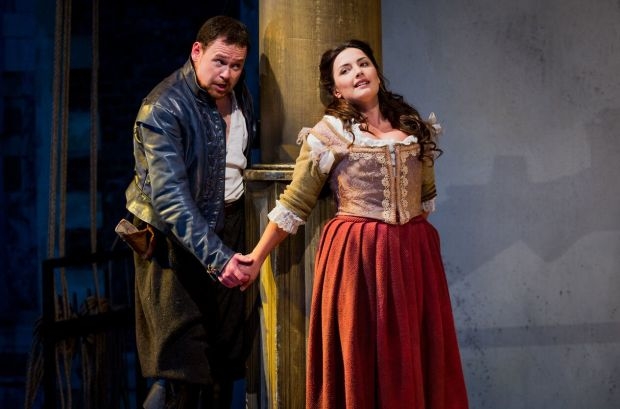 Why do casting directors trot the globe searching for talent when there's a ton of it here? Maybe business class travel feeds their egos, or perhaps it's snobbery that makes them shun the domestic scene. It's one or the other. (Probably the latter: I know of one brilliant home-based opera director who was turned down by a major house, not the Royal Opera, because his personal story was 'insufficiently interesting'.)
The upshot of this is that the best of British thrives in the regions while the capital barely gets a sniff beyond a few established names. Thank heavens, then, for Opera Holland Park, the annual London festival where UK talent has a place in the sun.
This year's La bohème is a case in point. It's directed by an unsung hero, the immense Stephen Barlow (he did Flight for the company last year), and it stars two young sopranos, Anna Patalong and Elin Pritchard, who are quite the crème de la crème. Small wonder it's a triumph.
The Australian-born Barlow has had the spiffing wheeze of relocating Puccini's tearjerker to the time of Shakespeare, a world of humble lifestyles and high mortality rates into which the opera fits quite snugly. He stages the outer acts on a replica of the Globe, while for the inner acts he explodes Andrew D. Edwards's nifty set and fills the wide Holland Park stage.
Patalong breaks your heart. She's a paragon of soprano sweetness and the vulnerability of her immortal aria "Si, mi chiamano Mimì" will crease you in two. A bit more oomph to the low notes and she'll be world class.
'Elin Pritchard delivers her waltz with style and eloquence'
As Rodolfo, her inamorato, Shaun Dixon is sturdy in both voice and physique, perhaps blest more with warmth than with lyricism but notably well characterised and sympathetic. His fellow students, Andrew Finden (Marcello), Frederick Long (Schaunard, here a lutenist) and, especially, the class act that is John Savournin (Colline), make for an attractive company, although the scenically spare opening act means they have to work hard to give their relationships a living dimension.
Act two sees Puccini's Café Momus teem with life—it's like the Boar's Head on bank holiday—and Barlow ensures that each chorister and child has a back story. It's a virtuosic half-hour of theatre: the director doesn't just fill the stage, he electrifies it; and then (no mean feat, this, on such a broad canvas) he draws the eye exactly where it needs to be looking at any given moment.
Into this hubbub sails Musetta, decked out like Elizabeth I and just as imperious. Pritchard is fabulous: she steals the stage and delivers her waltz with such style and eloquence that Finden's Marcello is putty in her hands.
If the Globe-ish concept prevents the essential vision of winter from biting in act three, at least the moments of frostbound romance are subtly staged and sung. As for the closing scene, it boasts a rousing rapier duel that's over too soon, while the spartan surroundings make Mimì's demise even more harrowing than usual.
The crisp playing of the City of London Sinfonia under Matthew Waldren is arrestingly good, not least the solo violin of Martin Burgess whose tone is the sweetest imaginable. Richard Harker's OHP Chorus is another outstanding asset.
Locked into history it may be, but this is a Bohème for our times.
La bohème runs in repertory at Opera Holland Park until 25 June. N.B. principal roles at the performance on 24 June will showcase this year's Christine Collins Young Artists.