Il trovatore (Royal Opera House)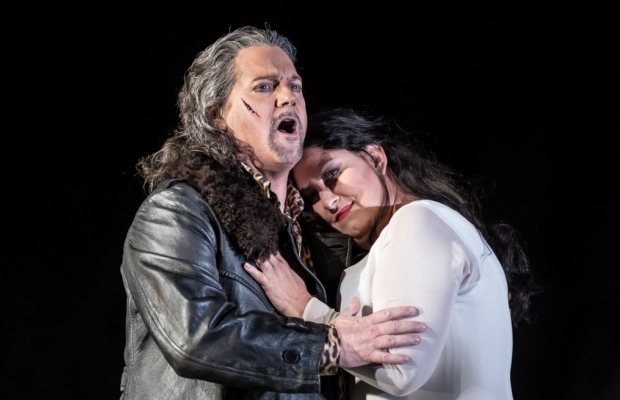 'Previously on Il trovatore…'
The opera with the biggest back story of them all returns to London in a new production by German director David Bösch that's been co-produced with Frankfurt Opera. Composed around the same time as Rigoletto and La traviata, Verdi's Trov was once as popular as both those giants. It's a measure if the work's declining currency that this is the first time I've attended a production of it in a decade of opera reviewing.
The neglect is often put down to the need for a quartet of the world's best singers to carry it off, but it may also have something to do with a hoary old plot whose pre-opera events are way more interesting than the predictable love triangle we actually see.
There's a sort-of good brother, Manrico (a tenor, naturally), his vengeful sibling the Conte di Luna (a baritone, inevitably) and a soprano, Leonora, whom they both desire. Cue (in this production at least) a night of very long, flashy knives.
And all because once, long ago, a gypsy woman threw the wrong baby onto the bonfire.
Bösch and his designer, Patrick Bannwart, serve up a plain affair that's entirely staged on the flat, with no levels to add visual interest but instead a restless parade of naïf pen-and-ink animations that over-illustrate the libretto. It's an economy production with an aesthetic to match: monochrome, minimal and for the most part unobjectionable.
Musically, though, it's in glorious Technicolor. I'd lost hope of ever hearing Gianandrea Noseda conduct for the Royal Opera (he shares much of Antonio Pappano's own Italian repertoire, which may partly explain the cold shoulder); now we can hear what we've missed as he and the ROH Orchestra tuck into Verdi's four-course feast. Il trovatore is a hoary old melodrama, there's no denying it, but the score can lift you high and blow you away.
Anna Pirozzi: 'a lustrous and robust Leonora'
The Royal Opera is going for broke, double-casting both now and when the opera returns next winter under Richard Farnes, so they're clearly anticipating a success. (The famous 'Anvil Chorus' probably has something to do with that, and indeed the Royal Opera Chorus does it proud.) On the basis of Summer Cast B, at least, they deserve to get what they hope for. Faintly starrier than Cast A, it boasts a vocally lustrous and robust Leonora in Anna Pirozzi who she sings her showpiece arias splendidly, especially "Tu vedrai che amore" in act four.
Equally powerful is the Russian mezzo Marina Prudenskaya as Azucena, the gypsy with a dark secret, while American tenor Gregory Kunde makes a belated Royal Opera debut as Manrico and reveals himself to be a charismatic stage animal with all the technique that Verdi's high tessitura lines demand.
As Di Luna, Christopher Maltman is surprise casting but on this showing a canny choice. His voice seems to be outgrowing Mozart and will soon fit Verdi very well, a shift that will bring a rogue's gallery of meaty new roles into his orbit. It's still a work in progress, though. At his second performance Maltman tended to sing below the note when under pressure, and intonation was tentative during descending phrases, but it was still exciting to hear his firm, resonant timbre.
This is not a production that will win prizes (a solitary tank trundles on and offstage rather too often, as though Bösch were a mite too proud of it, and a half-baked threat of premature conflagration on Azucena was never likely to be carried through), but at least the concept favours singers who get to project their voices unencumbered. And there's rarity value in that these days.
Il trovatore runs in repertory at the Royal Opera House, double cast, until 17 July.