I Should Be So Lucky review – Stock Aitken Waterman musical is a jukebox fever dream with Kylie cameos and honeymoon hijinks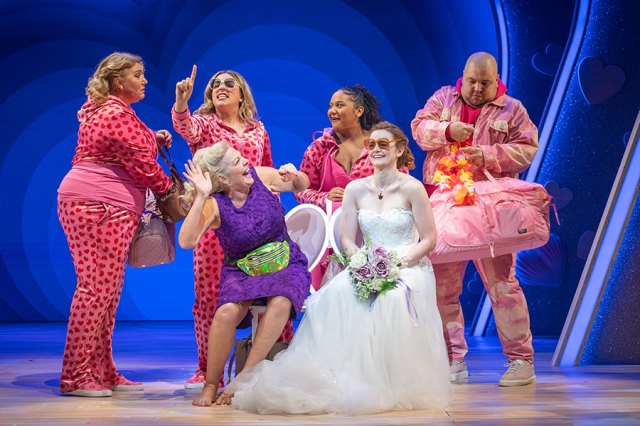 Lucky you, Kylie fans. Nativity! director Debbie Isitt has assembled a breathless Minogue mega mix, with the crooning of Jason Donovan, Rick Astley and others to ensure the 80s/90s pop quota is decidedly hit. Songwriters Mike Stock, Matt Aitken and Pete Waterman are brought out first at the curtain call, ahead of Isitt: the music comes well before anything else here.
You might expect I Should Be So Lucky to play on that cheesy-tune nostalgia, but it's all a bit flimsier than it could be. Set on a Turkish honeymoon resort, the story follows a bride, Ella, who picks herself back together after a ludicrously unconvincing plot point involving the groom's confused grandad making him bolt the wedding.
The light and breezy first half has a hectic pace that dashes from wedding to break-up and honeymoon. In the second, a load of plot washes up on its beach, with wave after wave of break-ups, couplings and contrivances.
The setting and family reinforce the impression of an ersatz Mamma Mia!. But there's little to our heroine here, nullified further by her decisions: jilting a genuine guy herself, then getting back with Nathan on the basis of "better the devil you know", which seems particularly glib and weak. The story deflates under any pressure, like one of its beach balls.
It's not wholly bad, then, that Ella is upstaged – the bridesmaid rather than bride, at her own wedding. Jamie Chapman's prim affectations offer welcome sharpness as the snooty manager. And Scott Paige's effortless comic reactions and sincere, self-sacrificing care gives his character more depth than the worn "gay best friend" stereotype often seen in other shows. He also brilliantly reclaims the queasy elements of Sinitta's "Toy Boy" with "I'm out with my toy boy" wittily switched into a pun about sexual pride.
These group numbers are strongly choreographed by Jason Gilkison to remind us that these are disco floorfillers. Hi-NRG's "Whatever I Do (Wherever I Go)" is nicely matched to a storm-set fallout with snapping shoulders and moody prowling.
Although Giovanni Spanò's aggressive charisma manages to pull off the best man's chaotic mix of laddy, lovable rogue and altruistic loyal friend as a hyper Jack, it emphasises how much of a wet flannel the groom is. Sulking drippily over Ella with an entitlement to getting her back, without anything to endear us to him as the one she should be with.
The show's in its own honeymoon period. Moony and lurid, as bright and colourful as the cocktails. Kylie even appears in a mirror like a fairy godmother. The idea of Ella finding inspirational strength in Minogue as a real figure isn't integrated into the story like the boyband in Greatest Days, so it becomes an increasingly daft gimmick. But the top-tier design could make you swoon, with Andrzej Goulding's video backdrops providing sunsets, sandy shores and star-studded skies for floating hot air balloons.
It doesn't need to lean so hard into cheap and trashy. A masseuse offers "cheap Indian head" and "back, sack and crack"; a grandma repeatedly references her vajazzle; and even the airport gate has to be number 69. It's hard to reconcile its opening catalyst around Ella's scuppered marriage by a fiancé she suspects of cheating, with a later strand that follows her sister encouraging a cheating husband.
It might be more messy weekend in Torquay than idyllic honeymoon in Turkey, but there's luckily enough fun overall.