I Should Be So Lucky musical confirms complete cast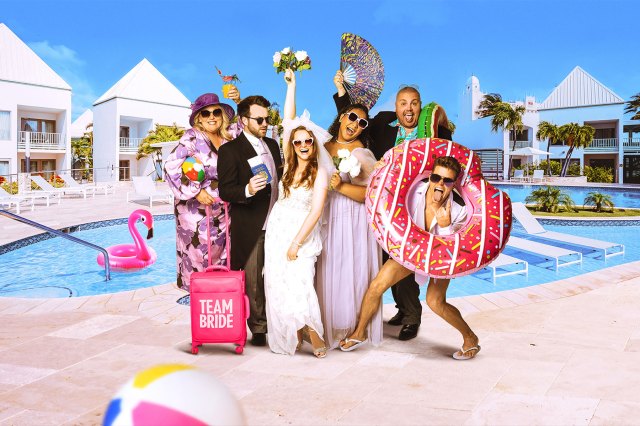 The full cast of the upcoming world premiere of the official Stock Aitken Waterman musical I Should Be So Lucky has been revealed.
Kylie Minogue will appear digitally throughout the show as a "specially created character unique to the musical". She commented: "I'm thrilled to announce that I will be joining Stock Aitken Waterman in presenting the new musical, I Should Be So Lucky! It is the music that inspired a generation (plus my first five albums!) so to have all the SAW hits in this original story will make for a compelling, funny and heartfelt show. Let's enjoy the magic all over again!"
Stock Aitken Waterman added: "Stock Aitken Waterman are thrilled to be part of this wonderful new adventure. To see our songs take on a new life in the world of musical theatre and working on a collaboration with Debbie Isitt and her talented team is so exciting and very special."
Written and directed by Isitt (Nativity!), the story follows a young couple named Ella and Nathan who are preparing for the next big step in their lives: marriage. The score features over 25 songs from the likes of Minogue, Jason Donovan, Rick Astley, Bananarama and more.
The cast includes Kayla Carter (The Color Purple, Bedknobs and Broomsticks) as Bonnie, Jamie Chapman (Nativity! The Musical, The Mousetrap) as Spencer, Jemma Churchill (Guys and Dolls, Nativity! The Musical) as Ivy, Matthew Croke (Wicked, Aladdin) as Nadeem, Jessica Daley (Mamma Mia!, Les Misérables) as Britney, Gary Davis (Annie, Oklahoma!) as Big Mike, Melissa Jacques (Everybody's Talking About Jamie, Mamma Mia!) as Shelley, Scott Paige (The Great British Bake Off Musical, Made in Dagenham) as Michael, Billy Roberts (Rock of Ages, Titanic The Musical) as Nathan, Giovanni Spanò (Jesus Christ Superstar, Bat Out of Hell) as Ash, Lucie-Mae Sumner (Mary Poppins, Guys and Dolls) as Ella and Anna Unwin (Aspects of Love) as Olivia.
The company is completed by Tegan Bannister, Ralph Bogard, Elliot Broadfoot, Emma Crossley, Kade Ferraiolo, Sydney Isitt-Ager, Joe Kelly, Aidan Nightingale, James Willoughby Moore, Lauren Woolf and Louie Wood.
The production also features choreography by Jason Gilkison, orchestrations and musical direction by George Dyer, set and costume design by Tom Rogers, lighting design by Howard Hudson, sound design by Ben Harrison, casting by Anne Vosser and production management by Simon Marlow.
Presented by Ambassador Theatre Group Productions and Gavin Kalin Productions, I Should Be So Lucky will debut at Manchester Opera House on 2 November 2023 (until 25 November), before touring to Cardiff, Plymouth, Leeds, Dartford, Sheffield, Southampton, Wimbledon, Oxford, Glasgow, Hull, Milton Keynes, Southend, Woking, Bromley, Birmingham, Bristol, Liverpool, Sunderland and Aberdeen.
Tickets for select dates are on sale below.