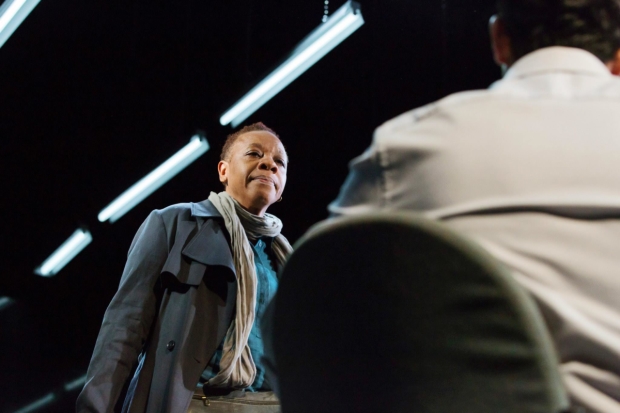 debbie tucker green
's
hang
is many things at once. A short, sharp satire about privatisation. A look at the knife-edge between justice and vengeance. A lament for lost humanity, buried under bureaucracy, protocol and health and safety regulations. It is a play that sticks in your throat.
A woman – Three (Marianne Jean-Baptiste) – has suffered some crime against her person or her family. It's never clear what, but it's had serious, long-lasting implications. She sticks to the sides of the room. Her hand shakes. Her husband is absent. Her kids are on meds. Their faith in the world, in people and goodness, has all but evaporated.
Now, she has the chance – the power – to determine her perpetrator's fate; not his sentence, but his means of death. In a clinical, carpet-tiled room full of stackable chairs – water-cooler in the corner, air-con parching the air – two care workers (Claire Rushbrook and Shane Zaza) guide her through the procedure.
And it is a procedure. For all the scripted sympathy and underlying safety nets, all the 'can we get you anythings' and the cups of tea in cheap Ikea mugs, this is callous and routine. One and Two are just doing their jobs. Three is ending a life. It takes five minutes for anyone to ask how she's been. When they do, the humanity of the question comes as a jolt.
'What a stark, probing evening this is'
This is a play that simmers all the way to the boil. By the time Zaza lays out the options – a drum call of deaths: lethal injection, gas, firing squad, beheading, electric chair, hanging – the cold-hearted, level-headed inhumanity is quite galling. No matter how much they dress up the language – ballistic expiry sounds almost pleasant – this is capital punishment as consumer choice. A tick-box execution. Death delivered like a build-your-own-breakfast.
No surprise that Three plumps for hanging. Slow, self-aware and undignified. Eye-popping. Bowel-dropping. Panic-inducing. As human a death as is possible. And, just for good measure, she hopes it goes wrong – hopes "whoever hangs him is as shit at maths as I was." The cruelty is gobsmacking – but, such is the skill of tucker green's writing and the hurt bubbling beneath Jean-Bapiste's skin, it's hard to condemn her for that. Who are we to judge?
The play's counterpoint is a letter, written by inmate to victim, and it's almost too human to bear. Three could disregard it – that's entirely her choice – but its pull is too strong. When she asks for guidance, One and Two can't provide any: "procedural protocols" and all that mean they can't influence her decisions. The system finally fails the victim. It leaves her to live with the consequences of her choice, of her actions. One and Two move on to the next case.
What a stark, probing evening this is: aptly efficient at only 70 minutes, but poised and poetic, with such pitch-black humour that laughs pop like gasps in reverse. Zaza is genial and brisk, going through the motions without grasping their gravity. Rushbrook's ashen and evasive, as if blocking feelings out for the sake of her job. tucker green suggests that this is our future, that customer care is really no care at all, and Jon Bausor's glossy set wobbles like a mirage when things get too much, too real, too human. Jean-Baptiste, superb, stands still and unwavering, but the turmoil is clear. That no-one stops to take care of her, to talk or to listen, is just awful.
hang continues at the Royal Court until 18 July 2015