God of Carnage at Lyric Hammersmith Theatre – review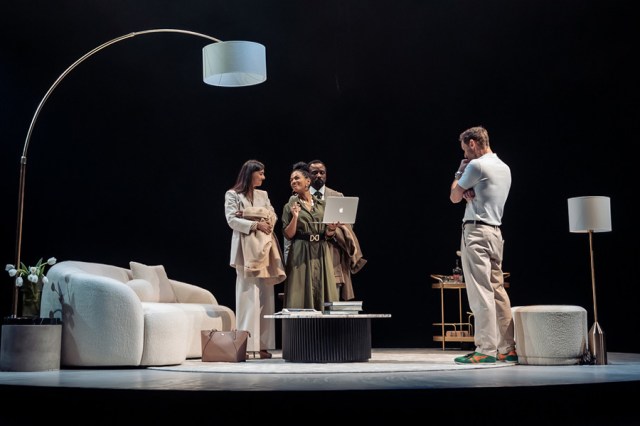 Plays, like wine, change with time. And somewhere between its triumphant runs on Broadway and in the West End in 2008 and its current revival at the Lyric Hammersmith, Yasmine Reza's God of Carnage has turned from rich claret into sharp vinegar.
What once seemed like a perceptive social commentary now feels effortful; its sense of piercing beneath the veneer of comfortable, middle-class life to reveal the hatred, hypocrisy and anger boiling beneath now appears at once too pat (more loathing can be expressed in a single internet post than in 90-odd minutes here) and too superficial.
It's hard really to believe in the two couples gathered in an immaculate living room to discuss an incident where Ferdinand, the 11-year-old son of one, has attacked Bruno, the 11-year-old son of the other, dislodging two teeth. "Armed with a stick," suggest writer Veronica and her husband Michael, parents of the victim. "Furnished with a stick," proffer smooth lawyer Alan and his wealth-manager wife Annette, parents of the stick-wielder.
The conversation starts amicably enough, with just a flicker of enmity between the surface. Veronica – played by former Doctor Who companion Freema Agyeman – has bought tulips and serves clafoutis to make things run smoothly. But by the time Michael (Martin Hutson) brings out the rum, the passive-aggressive resentments between the couples over styles of parenting and the fissures in their own relationships have already pushed their way to the foreground.
At this distance the satire doesn't seem as sharp as it perhaps once appeared.  Reza is clearly – as in her smash hit Art – making fun of the pretensions of the bourgeoise. But the targets are broadly drawn. Alan (Ariyon Bakare) is glued to his mobile phone, where he is fighting to prevent a pharmaceutical company being sued for malpractice; Annette (Dinita Gohil) feels his neglect. Veronica salves her conscience about her art-catalogue lifestyle by writing a book on the horrors of Darfur; apparently kindly Michael is callous in his treatment of the family hamster.
But for all its broad-brush strokes, there should be a gap between what the characters say and what they are thinking, between text and subtext, between appearance and reality. Perhaps doubting the relevance of the material, director Nicholai La Barrie turns up the dial to such a level from the very beginning that everything is overstated. It's all big arm gestures, and heavy emphasis. Everything is as crass as the vomiting scene, which feels like one over-the-top moment among many.
As a result, the comedy is both flattened and over-signalled.  The desire to shock – including one word used savagely and out of the blue – has no justification in anything that has been built before. The most interesting thing on stage is the way that Richard Howell's string of lights fall gently to the floor, surrounding Lily Arnold's revolving stage, turning it into an arena.  But within that circle of human conflict, both play and production fail to reveal anything much.