From the Cradle to the Bin (Salford)
Dementia is rightfully a hot topic at the moment. It is everywhere. Not a week goes by without a personal story being aired on the television or a new government initiative being publicised on the front of our newspapers.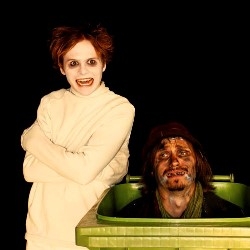 This week it is National Dementia Awareness week and so there really couldn't be a better time for A Ship of Fools Theatre Company to showcase their revised one hour show, From the Cradle to the Bin.
This new play deals with themes of elderly care and neglect from the perspective of Mr Whitey (Charles Shetcliffe), an older man with dementia who finds himself playing out the last days of his life in a care home.
His care worker at Happy Valley Care Home, Raoul (Mark Winstanley) is lackadaisical, careless and disinterested in Mr Whitey's needs.
Through the use of exaggerated images and grotesque parody, the theatre company seek to expose those in society who may take advantage of vulnerable older adults.
During the show, I found myself laughing along with most of the audience at the hilarious clowning and stylised sequences. But at the same time, I also felt a lot of distance between myself and the story on stage, which allowed me to question what I was seeing and reflect on the darker elements of society that many people choose to ignore.
The talented cast of six punctuate their funny sequences with well-known songs, perhaps the type of music that you would hear on repeat during a reminiscence exercise in a care home. However, they invert and change the lyrics to create something which is much more terrifying and haunting.
It is clear to see that the company understand some of the issues surrounding families and dementia; Artistic Director, Charles Shercliffe, makes no cover-up of the fact that he founded A Ship of Fools Theatre Company in response to his own fathers death from Huntington's disease in 2011.
This shocking and energetic piece of theatre shows bravery and talent. Taking on a subject like dementia, which affects so many people at some point in their lives, and then transferring it to the stage in an intelligent and humorous way has to be applauded.
And as somebody who works creatively with people with dementia on a day-to-day basis, any type of theatre which succeeds in encouraging us to question ourselves and raise awareness of dementia in our society is a highly worthwhile cause indeed.