Flowers for Mrs Harris (Sheffield Crucible)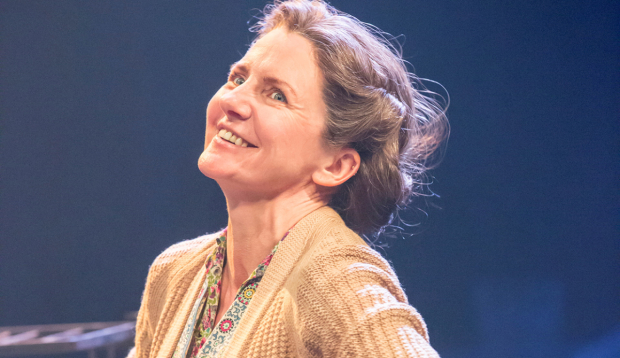 In his seven years in charge of Sheffield Theatres, Daniel Evans has made a name for himself as a director of musicals. So it's appropriate that while his fantastic revival of Show Boat continues its run in the West End, he bows out from his Northern powerhouse with a new musical with a heart of gold.
Flowers for Mrs Harris is an adaptation by playwright Rachel Wagstaff and composer and lyricist Richard Taylor of Paul Gallico's 1958 novella about a London cleaning lady who sets her heart on owning a New Look dress by Christian Dior. Somewhat surprisingly, apart from filling out its heroine's backstory, it is remarkably faithful to the gentle, heart-warming spirit of the book, with its message about the value of dreams and the importance of generosity.
There are no big, show-stopping numbers, the tone is conversational and wry, the young love interest is not moved centre-stage, Lez Brotherston's sets are uncharacteristically monochrome. The show simply focuses with an affectionate, gentle gaze, on 53-year-old widow Ada Harris who spends her life putting her own needs behind those of others until the moment when she sees a Dior dress in the wardrobe of a rich client and experiences an epiphany. "There is more to life, Ada H, than you ever knew, than you ever dreamed," she sings.
As Mrs Harris, Clare Burt is a marvel, filling each moment with a kind of dignified longing, as she scrimps and saves with the help of her jolly friend Violet (Anna-Jane Casey, also wonderful) until she finally flies to Paris and enters the hallowed portals of Christian Dior. There her goodness and kindness win friends and influence people, bringing joy to all she encounters.
There too, Brotherston works a wonder, bringing on a parade of beauties in gleaming satin and jewelled colours who perfectly encapsulate the postwar sense of civilised happiness that Dior's designs released. "Every woman is a princess," says Mrs Harris, reminding the stern vendeuse of the designer's promise – and the musical captures that sense of beauty and potential.
Though melodious throughout, with witty lyrics (not always as clear as they might be) it finds its tone in the second half when the cast are allowed to speak as well as sing. They double parts, switching from put-upon English to histrionic French with elan. I particularly liked the way Mrs Harris's eccentric, demanding clients, whirred past on the revolve, and both Laura Pitt-Pulford as a spoilt actress and generous model and Mark Meadows as the imagined Mr Harris and the kindly Marquis, are outstanding.
But what I loved about Flowers for Mrs Harris is its understated humanity. In avoiding the big effect, it yields rich dividends of emotion. There is barely a dry eye in the house by the close. What a wonderful valedictory gift from Evans to the theatre he has run with such distinction: a new British musical that has the courage to focus on the aspirations of an ordinary, middle-aged woman – and turn them into an all embracing fairy story.
Flowers for Mrs Harris runs at the Crucible, Sheffield until 4 June.