Farinelli and the King (Sam Wanamaker Playhouse)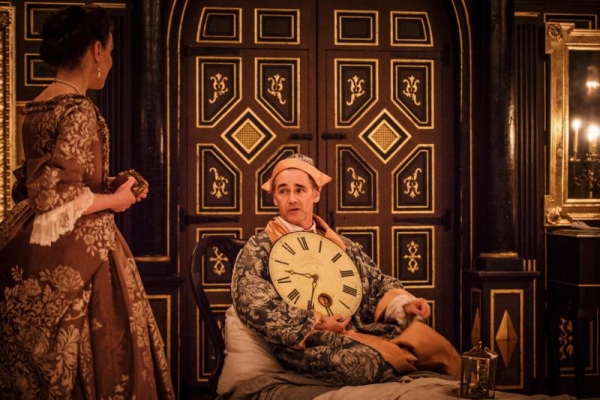 Mark Rylance has traded his inscrutable Tudor fixer Thomas Cromwell in Wolf Hall on television for an insane 18th century monarch, Philippe V of Spain, grandson of the Sun King, Louis XIV, in the candlelit Sam Wanamaker.
The play considers the healing of the king's madness, melancholia and depression, or at least the musical influence that made his condition tolerable. His medication is supplied by the celebrated castrato Farinelli, here sung by the counter-tenor Iestyn Davies (or William Purefoy) and spoken by an identically costumed Sam Crane; the treatment, in which Farinelli allegedly juggled only a few arias in all, lasted almost a decade.
So, we have a bipolar royal and a split personality singer, each of them seriously conflicted in different ways. Rylance's wife, the composer Claire van Kampen, has written a bespoke text for the actor at his most feather-light, ethereal and saint-like, adjectives that are equally applicable to the beautiful sound of Farinelli, which in real life would have been purer and more boyish; a counter-tenor is not emasculated and is in effect a falsetto.
In this jewel box theatre, already tried and tested as an ideal venue for baroque opera, this strangely insinuating play with music – not enough music, perhaps – strikes a chord with Ionesco and Pirandello (notably the latter's Henry IV) but also does something completely different: Rylance's Philippe is someone for whom his exile from himself – talking to goldfish, staring at the moon – is the ideal state of being; he's more himself when he's not at home.
There's a Pirandellian twist at the end, though, which suggests a further confusion of character van Kampen, whose writing is more serviceable than scintillating, might have worked more integrally into the structure.
Philippe is attended by his wife, Isabella Farnese (Melody Grove), his doctor (Huss Garbiya) and a harrumphing chief minister in a giant wig (Edward Peel). While Isabella is drawn more closely to Farinelli, and affairs of state and policy are let slip by the king, there's one scene in which Rylance brilliantly suggests his condition is a choice made by someone still completely in charge of his political brief.
The poet Metastasio (Colin Hurley) sulks in Vienna over the terms of Farinelli's employment and the state of the opera world in Europe. His lyrics are heard in the first of two elegantly delivered arias set to music by Farinelli's teacher, the Neapolitan maestro Nicola Popora.
These are standards of the counter-tenor's repertoire, and the other items are by Hasse and Handel, the latter represented by two favourites from Rinaldo. In the first, "Venti, turbini," Rylance fulfils his dream of punching a hole in the forest to see the stars by lolling among the audience, acting and sharing a pleasure in music that is both odd and beguiling; and in the second, the simply ravishing "Lascia ch'io pianga" ("Let me weep"), the play enfolds the audience once again in the music of the spheres, no less.
Farinelli and the King is playing at the Sam Wanamaker Playhouse until 8 March