Critics crown Farinelli and the King a success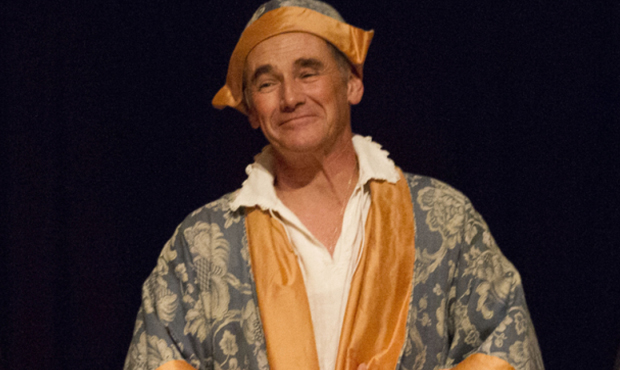 ★★★★
"Rylance's loony melancholic leader finds him at his most delicate and ethereal, and clownish."
"Jonathan Fensom's design of candle-lit chandeliers, onstage boxes (containing customers) and painted backdrops is a treat in itself"
"If the play celebrates the healing, consoling powers of great music – Philippe V commanded Farinelli to sing to him every day for a decade – it also makes the point that even the most rarefied art isn't élitist, or shouldn't be."
★★★★
"Shouldering immense expectations, Rylance doesn't disappoint – precisely by courting anti-climax. He creates something wholly disconcerting: a one-man power vacuum."
"It's almost a theatrical rebuff but it draws us into a borderline psychological state twixt sleep and wake, lucidity and incomprehension, jest and earnest that has us – like Philippe's exasperated adherents – hanging on every word."
"its slender quality sits well with its otherworldly subject and ethereal star-player – its transient stage-glories and fleeting sounds poignantly conjuring for a brief spell a forgotten monarch, a long-vanished era and a name – Farinelli – that outlasted them all."
★★★★
"Mark Rylance may be the big acting name in Farinelli and the King but the real star – whose talent makes you tingle – is counter-tenor Iestyn Davies"
"It is all rather understated and sad and ends, devastatingly, superbly, in one of the scenes of the season, with Mr Davies singing Handel's Lascia Ch'io Pianga."
"This show is not innocent of slightly precious moments. One or two lighter touches may also evoke TV's Blackadder. But that finale? Fantastico Farinelli."
★★★★
"With Mark Rylance as the king, the evening is guaranteed success, but what it really proves is how ideally suited this intimate space is to the mix of drama and music."
"With its calculated anachronisms and Shakespearean quotations, Van Kampen's script is sometimes a bit knowing, but it interweaves story and song excellently."
"There is, however, unflinchingly good support from Melody Grove as the tenacious Isabella, Edward Peel as a testily impatient Madrid chief minister and Colin Hurley as Farinelli's deserted promoter, Metastasio."
★★★★
"One might say that Rylance seems so suited to the role of the mentally unstable King Philippe V of Spain — very witty but also poignant in the manner of The Madness Of George III — that it's almost as if the part had been written for him. But it actually was, by his wife Claire van Kampen, a musical director turned debut playwright."
"This is, unashamedly, a Mark Rylance star vehicle and it's hard to imagine another actor providing a similar focal point for a drama that slightly loses its bearings in the second half."
"We witness those virtuoso Rylance touches: that priceless look of bewildered innocence, as well as comic lines rendered even funnier by his character's seeming obliviousness."
★★★★
"Enchantingly directed by John Dove, the drama sends speculative probes into the real-life story of how the only thing that could distract Philippe from his mental torment was the voice of Farinelli."
"But in the often very funny script and in Rylance's subtle, understated performance, the deep, self-centred depressive, the vulnerable over-sensitive visionary and the engaging crank, full of subversive humour, are so humanely enmeshed that your heart never ceases to go out to him."
"Keenly insightful about both music and melancholy, this is a beautifully wrought 2-hour miniature."
Farinelli and the King runs at the Duke of York's Theatre until 5 December 2015.