Cleopatra (Grand Theatre)
Northern Ballet's Cleopatra, so well received on its 2011 premiere, returns to the Grand with Martha Leebolt reprising her acclaimed performance as the Egyptian queen. It's an ambitious undertaking, with the scenario devised by choreographer/co-director David Nixon, composer Claude-Michel Schonberg and co-director Patricia Doyle covering the plots of two Shakespeare plays and then some in less than two hours of stage time.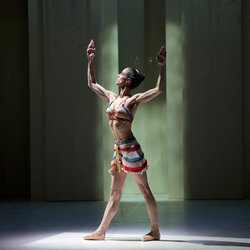 The economical narrative is surprisingly clear, though a study of the synopsis and character images in the programme is recommended, as the ballet races through Cleopatra's conjuring of the help of the god Wadjet, her marriage/joint rule with her brother Ptolemy and her relationship with Caesar, ending with his assassination and the rise of Antony and Octavian – all this before the interval. And, in truth, the narrative complexities as detailed in the synopsis are only discernible by the most eagle-eyed.
Not surprisingly, despite Leebolt's expressive and intelligent performance, Javier Torres' dignified athleticism as Caesar, and immediately accessible choreography that neatly points the Rome/Egypt divide – the Romans almost mechanistic, the Egyptians more fluent and sensual – it is difficult to get involved with the characters until the second half, which effectively replicates Shakespeare's Antony and Cleopatra.
Tobias Batley's boldly liberated Mark Antony and Hironao Takahashi's coldly malevolent Octavian clash in the first of a series of confrontations that make the second half more satisfying dramatically than the first, Nixon always finding telling choreographic equivalents to their conflict and that between Cleopatra and Octavia, wife to Antony (Hannah Bateman). The interaction of the noble, but louche, Antony with the women of Cleopatra's court is handled wittily, and the production becomes more expansive, less rushed.
Martha Leebolt's Cleopatra is at her best – her most graceful and her most sensuous – in the pas de deux with Antony, but arguably her strongest relationship is with the snake god Wadjet, the sinuous Kenneth Tindall. The ballet begins and ends with their serpentine encounters.
Claude-Michel Schonberg's score, well played by the Northern Ballet Sinfonia under John Pryce-Jones, is colourful, attractively allusive and varied in texture, with imaginative use of percussion. The designs (again by David Nixon, this time with Christopher Giles) feature a flexible set, with columns and porticos sometimes skewed or broken, in drab colours that contrast with the vivid costumes, notably for Cleopatra whose diaphanous or glittering robes give way to what Leebolt herself calls "beautiful but quite bare" costumes.
Cleopatra continues at Leeds Grand Theatre until 15 March before moving to the Lyceum Theatre, Sheffield (25 – 29 March).