Caryl Churchill and Lucy Kirkwood recognised in Writer's Guild Awards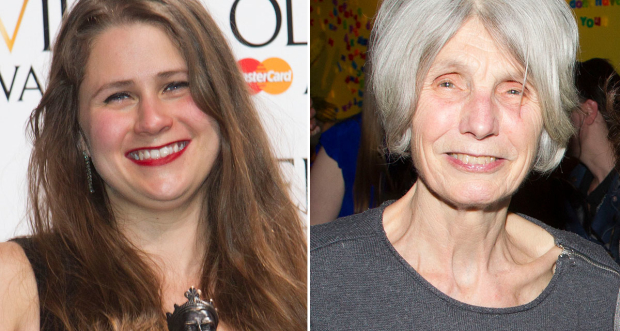 The winners of the 2018 Writers' Guild Awards were announced last night in a ceremony at the Royal College of Physicians in London.
Caryl Churchill was presented with the Outstanding Contribution to Writing Award to honour of her extensive body of work.
Churchill said she was 'overwhelmed' and that it meant a great deal "to be recognised by my writing colleagues and the Writers' Guild".
The award was presented by Lucy Kirkwood, who was also the recipient of a Writers' Guild Award for Best New Play for The Children, which opened at the Royal Court last year and is currently running on Broadway. Sarah McDonald-Hughes won the award for Best Play for Young Audiences with How to Be a Kid.
The night was a celebration of female talent, with nine of the 15 awards (with categories in theatre, TV, radio, comedy, books and video games) going to female writers. The Best Short Form TV Drama award went to Sarah Phelps for the critically acclaimed The Witness for the Prosecution starring Toby Jones (which was also adapted for the stage late last year). Best Radio Drama went to Ming Ho for The Things We Never Said; Sarah Kendall took home the award for Best Radio Comedy for Sarah Kendall: Australian Trilogy, 'A Day In October' and Sheena Kalayil picked up the Best First Novel award for her debut The Bureau of Second Chances.
Best Writing in a Video Game was won by Elizabeth Ashman-Rowe with Tameem Antoniades for dark fantasy game Hellblade: Senua's Sacrifice. Writer Emily Ballou formed part of the writing team alongside Chips Hardy, Steven Knight and Ben Hervey, who picked up the award for Best Long Form TV Drama for the highly applauded drama Taboo.
Further winners include Reece Shearsmith and Steve Pemberton for Inside No. 9, 'The Bill' and Jonathan Perera for Miss Sloane.
WGGB president Olivia Hetreed said: "The range and quality of talent represented this year has been awe-inspiring and our winners are outstanding in their fields. With the always-inventive and challenging playwright Caryl Churchill taking our highest award, it's especially good to see there are plenty of Top Girls writing today."