Samantha Spiro: 'Oscar Wilde wrote brilliantly for women'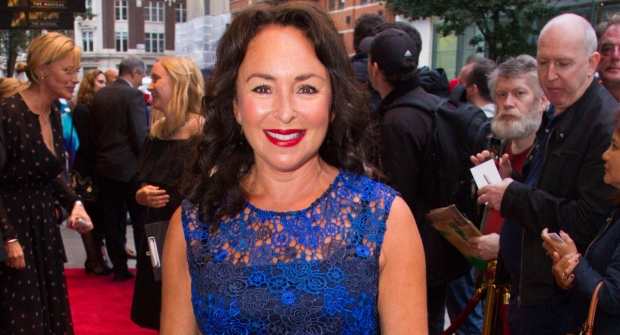 Samantha Spiro has been starring in leading roles on and off screen for over 20 years, receiving two Olivier Awards – both for Best Actress in a Musical for Merrily We Roll Along at the Donmar Warehouse and Hello, Dolly! at Regent's Park Open Air Theatre in 2010. On screen she's starred in Game of Thrones, Bad Education, and played Barbara Windsor in the TV adaptation of Cleo, Camping. She segues easily from screen to stage, musical to play and has the ability to turn her hand to comedy or tragedy. Her turn as Miss Adelaide opposite Richard Kind in Guys and Dolls at the Savoy in 2016 was more than proof of her finely-tuned funny bone. She's about to open in the latest in Dominic Dromgoole's Wilde season in the West End, playing Mrs Erlynne in Lady Windermere's Fan which is directed by Kathy Burke.
---
There's lots to like about this project (Wilde, co-starring with Jennifer Saunders, Kathy Burke) but what initially drew you to doing it?
Every job is different, but what's interesting is that all of us in the cast have fallen more and more in love with the play as we have gone along. If I'm completely honest, I don't think I saw it all when I first read it. I thought: 'I like the play and I like the part, I love the thought of working with Kathy, I love the thought of working in this Classic Spring season.' But I've really, really fallen in love with the part and the play. As we've gone along I've realised what depths Oscar Wilde wrote, how brilliantly he wrote for women and what a joy it is to go on that journey as an actress.
Kathy Burke is mostly known as a performer – what is it like working with her as a director?
I haven't worked with her either as a director or actor before. But we've known each other for a long time, we've sat on a make-up truck together a few times. But it's been the most unbelievably joyous and buoyant experience. It's amazing that she's an actress herself and that she can trust her actors so much, and be there to guide rather than do it her way. She is a scream and tells us lots of funny stories too.
The earlier show in the season A Woman of No Importance is classed as a comedy – would you describe Lady Windermere's Fan as one too?
It is without a doubt a comedy. I think Wilde wanted to write the perfect play structurally, and the more we perform it the more I think he really achieved it. And in a really short space of time too – we are down by 9.30pm. The plot follows Lady Windermere who is 21 and is two years married to Lord Windermere, and they have a child and an extremely happy marriage. Into their marriage comes scandal. She hears through the Duchess of Berwick – played by Jennifer Saunders – and Lord Darlington – played by Kevin Bishop – that Lord Windermere has been spending his time with a woman of fairly loose morals. I can't give you too much plot after that because I don't want to spoil it, but it is extremely human, moral and relevant. Then the second half turns quite Ibsen and is really beautifully written and takes you a little bit by surprise.
And presumably Jennifer Saunders is a treat as the Duchess of Berwick?
I am not in act one and so I am able to say that Jennifer Saunders and Kevin Bishop are extremely funny. In A Woman of No Importance, Anne Reid sung in the middle of a couple of acts and our dear Jennifer is going to be performing in the middle of act three and four. She makes Wilde's play feel so fresh and throwaway, you are just hanging on her every word. But we are also so lucky to have Grace Molony as Lady Windermere – it's only her second theatre job and she is the heart of the play. Josh James is absolutely divine as Lord Windermere too. Sorry to sound so luvvy. But those two are a revelation.
When did you decide you wanted to act?
I was ten and doing a school play. I remember a very loud voice inside my head as we were coming to the curtain call (it's all about the applause) which just said: 'This is what you're going to do'. I felt really happy and I loved it. I was lucky with drama teachers at school and my parents always encouraged me to do what I wanted.
Were your family into theatre?
My grandfather was an immigrant from near Poland and Russia. He had a one-man show and travelled through Europe and arrived in London but couldn't really make a career out of it. So he went into business and became a tailor. Then my dad as a young man went to drama school at Toynbee Hall in the East End and really wanted to be an actor, but I think growing up then in the East End, acting didn't feel like a viable option. So he decided to keep it as an amateur thing. We used to go to see stuff, but not regularly. Going to see a show was a treat.
Do you have a job you consider as your big break?
Other people have said that they assume my role as Barbara Windsor in Terry Johnson's play Cleo, Camping at the National was a big break and I suppose it was. It did feel it was at the time and it was the most amazing job to do because many more people saw it than stuff that I had done before. But it didn't necessarily open every door or transform my career. It felt like a lovely progression.
Lady Windermere's Fan runs at the Vaudeville Theatre from 22 January until 7 April, with previews from Friday.