Black Sabbath: The Ballet at Birmingham Hippodrome – review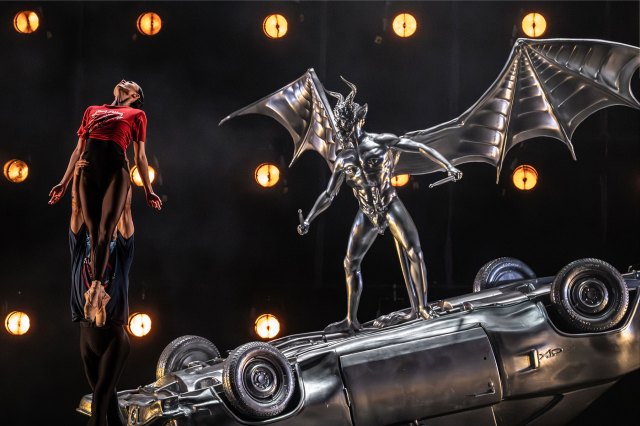 A classical ballet company conceiving and performing a work inspired by a heavy metal band may seem like the height of incongruity. And yet the theatricality of the music and performance of Black Sabbath lends itself to creating a language through physical movement, giving a new relevance both to the music and the dance.
Under a team led by composer and music supervisor Christopher Austin and with the support and involvement of Sabbath guitarist Tony Iommi, the band's music has been orchestrated to create a dance score that uses both the powerful anthemic songs of "Paranoid" and "Iron Man" but also much more contemplative and melodic pieces which will be less familiar to non-Sabbath fans such as "Orchid" and "Solitude".
Premiered at Birmingham Hippodrome, Black Sabbath: The Ballet makes little attempt at any clear narrative about Birmingham's most famous rock band, instead conjuring up a series of impressions generated by Black Sabbath's music and mythology.
Directed by BRB director Carlos Acosta with lead choreographer and artistic director Pontus Lidberg, the work brings together three quite distinct 30-minute acts, created by different composers and choreographers, while ensuring a continuity throughout.
In the first act, composed by Marko Nyberg and Austin and choreographed by Raúl Reinoso, we're introduced to the idea of Black Sabbath as sound and performance that inspire joy and also a form of worship.
Dressed in black and spotlighted, the dancers move as a whole to the anthemic "War Pigs", frantic and excited, but then they break away leaving two dancers, Javier Rojas and Yaoqian Shang, locked together in what must surely be the longest kiss ever seen in a ballet.
When guitarist Marc Hayward takes to the stage, lording his way through the crowd like the rock star he symbolizes, the dancers follow him – he is their new idol.
Composed by Sun Keting and choreographed by Cassi Abranches, the second act is the closest to a narrative as it shares excerpts of the band's story with a series of anecdotes related by members including Iommi and Ozzy Osbourne, and Ozzy's wife Sharon.
Beneath coloured strip lights, dancers in flares mimic the fans of the 70s but they also offer a visual representation of some of the emotions, the highs and the lows, of the band members. Tyrone Singleton and Céline Gittens perform a pas de deux full of tenderness in which they explore moments of uncertainty leading to solidarity – just as Sharon tells the audience how the band members supported each other.
The final act, composed by Austin and choreographed by Lidberg, brings some of these ideas and themes together. Exploring the impact of Black Sabbath, we see a stage filled with fans, their support visible in band T-shirts and in their adulation for the music as they replicate guitar riffs and stage jumps.
Finally, the three groups from the three acts come together paying homage to the band and their music – with a grand finale which at press night also featured an appearance from Iommi on guitar.
The Royal Ballet Sinfonia may be more accustomed to the harmonies of Tchaikovsky but under the baton of Austin, they give a stunning performance of a score which I hope the company will be recording as it is worth listening to in its own right.
Alexandre Arrechea's designs are clearly inspired by Black Sabbath artwork with black and white medallions featuring crosses and skulls and a silver car and demon figure which is moved around the stage as both a focal point and a backdrop. KJ's lighting adds a brooding presence that encapsulates the light and dark of both the music and the human experience encapsulated in it.
Forming part of BRB's ongoing Ballet Now project which aims to provide a platform for emerging composers and choreographers, Black Sabbath: The Ballet is a homage not just to the band but also to Birmingham, the city which made them, with its industrial heritage referenced in both the score and the anecdotes.
The work is hugely experimental and that has both its opportunities and challenges. In many ways, the piece is a jumble packed with so many ideas and influences it can be hard to identify what is happening at individual points and the significance to the music. The sound also needs some attention as some of the anecdotes are drowned out by the orchestra.
But the sell-out production is a testament to all involved that they've pulled this off, creating a hybrid production that appeals to both dance audiences and Black Sabbath fans. When Acosta joined BRB, he stated his aim was to ensure the company was relevant and exciting, creating new work grounded firmly in its home city – and Black Sabbath: The Ballet has achieved that.