Anne-Marie Duff: 'I had no idea if Shameless was going to be disastrous or brilliant'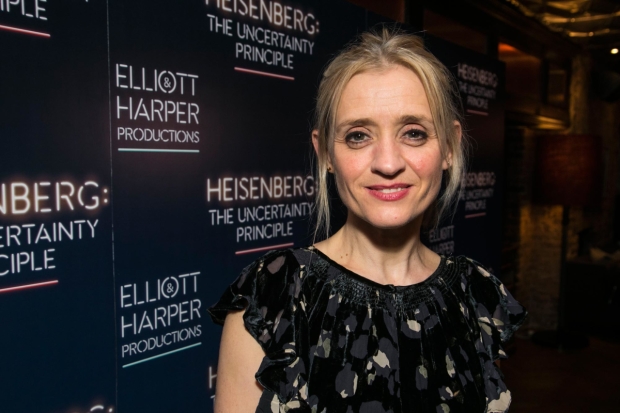 Anne-Marie Duff may be known to most people from the noughties TV series Shameless, but she has had a long, meaty career before and after that show on and off stage and screen for over 20 years. Having been nominated for an Olivier Award for her role in Marianne Elliott's production of Saint Joan at the National Theatre in 2007, she has since worked with the director twice more, once in Husbands and Sons at the National Theatre in 2015 and most recently in the new production and UK premiere of Simon Stephens' play Heisenberg – The Uncertainty Principle. Her performance, like most of her stage and screen turns, is engaging, funny and watchable through and through. It betrays her quiet but fierce skill and her innate understanding of what makes excellent theatre. Here she explains how she came to the stage despite being exceptionally shy.
---
I made a conscious decision to focus on theatre recently. It will probably be two years by the time I've finished the Scottish play [at the National Theatre next year]. Theatre is where I'm happiest. It's where I started acting, so it feels like home. In other mediums like TV and film there are many other factors involved which can be distracting. In theatre it's very pure. Very distilled. It's all about storytelling.
I was a very, very shy child, and I read an awful lot. I was a real book worm. It was a friend of mine who started to go to a drama group and because she was my best friend I wanted to go with her. My parents thought it would be quite a good idea because it would encourage me to be a bit more confident. And it's not such a crazy side step to go from being obsessed with fiction on the page to being obsessed with telling stories differently.
I was really gutted I wasn't part of the theatre revolution of the 50s and 60s. At secondary school I did a lot of reading about actors from a long time ago and became obsessed with them. I have very romantic notions of theatre and the power of it – the power of having one person in a room telling a story. Those notions haven't died.
Heisenberg isn't about physics. It's a play about how science relates to us on a personal level. In the play, Simon Stephens looks at the nature of love and how if you are completely focussed on the course of a relationship you stop looking at the other person properly. Conversely if you're busy focussing on somebody, you might lose track of what is happening to the actual relationship.
It's also about London. Most of it is set in London. The city is a defining environment for us to be in, it's a tough old place. It can make people feel very isolated and it's very easy to dislocate yourself and be alone in London. So the play is about how we need to connect with other people. And how chance encounters force communion.
Kenneth Cranham is a gorgeous man as well as a brilliant actor. We have laughed an awful lot in rehearsals. This is my third play with Marianne Elliott and her rehearsal room is always full of joy. It's nice because there's a shorthand [if you've worked with someone before] because you get to finish each other's sentences creatively. You get to know what somebody's taste is or how they work.
When I started Shameless, I had just finished The Magadalene Sisters with Peter Mullan, but it was that film which felt like the extraordinary thing to be involved with. Shameless was very uncertain. We had no idea whether it was going to be disastrous or brilliant. It afforded me certain luxuries in terms of the work that came afterwards. But I wasn't some kid Ken Loach had put in a film and it changed my life. But, bizarrely, Shameless did get me the part of Elizabeth I for the BBC.
Heisenberg – The Uncertainty Principle runs at Wyndham's Theatre until 6 January.