Anna Nicole (Royal Opera House)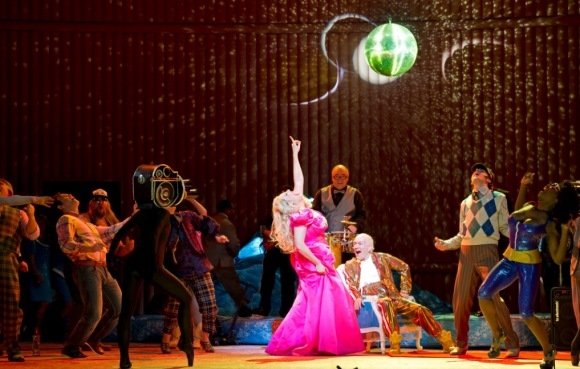 "How does it feel, baby?" runs one of the more repeatable lines in
Anna Nicole
. Answer: pretty good. To see the Royal Opera House packed with 16-25-year-olds, every one of them plainly thrilled to be there and having the time of their lives, gave me an uplift in places silicone implants cannot reach. And if that smacks of a double entendre (I was referring to the emotions, silly), it's purely in the eye of the beholder. Rather like our heroine's impossible bust.
I was an Anna Nicole virgin until last night, if such a thing can be said. I'd resisted the opportunity to see Mark-Anthony Turnage's opera in 2011 and even shunned the telecast. Its subject matter struck me as a distasteful example of high art laughing at those less fortunate than itself, with cheap tricks such as operatic swearing that librettist Richard Thomas had already done in his admittedly very good Jerry Springer: The Opera.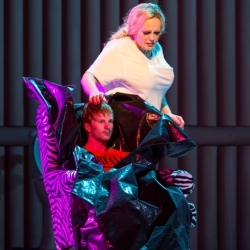 Finally confronting the piece, I realised that my rare (I hope) example of prejudice had been misplaced. Anna Nicole is a drama that's every bit as operatic as La traviata, and Turnage's score is prodigiously good. It combines elements of showbiz pastiche with the most plangently lyrical passages I've heard in any new opera this century. With orchestral writing that's super-loaded with confidence, colour and originality, it's easy to see why the Royal Opera's music director Antonio Pappano has returned to champion it again.
The story of Anna Nicole Smith and her self-annihilating pursuit of fame and fortune is a true-life tragedy that unfolds like spiralling horror in a cotton-candy world. The breast implants that caused her such excruciating back pain are self-inflicted instruments of torture; junk food and depression the dagger that kills her.
Richard Jones's production – here revived with a starry cast of Anglophone worthies, many of them returning from the original company – is immensely stylish. The director's trademark garishness is thoroughly at home in designer Miriam Beuther's vision of a trashy America, wonderfully costumed by Nikki Gillibrand in a sea of ghastliness.
'this deep tale of shallow lives'
It was an inspired idea to fill the stage progressively with black-clad dancers wearing cameras for heads. As well as offering an eerie embodiment of Anna Nicole's publicity-hungry existence, these expressionistic monsters eventually overwhelm her. Even when she's dead they pick among the trash like vultures.
In a robust team of ensemble soloists, many of them more used to leading from the front in other operas, Grant Doyle (Billy), Rod Gilfry (Stern), Peter Hoare (Larry King) and Alan Oke (Old Man Marshall) stand out. But this was, and is, Eva-Maria Westbroek's show. The diva has an impossibly taxing role yet her voice never wavers and her stamina never palls. She is one of the finest singing actresses and we live with her through every harrowing moment.
There are probably too many shortcomings for Anna Nicole to achieve true longevity. Turnage and Thomas have learned lessons from musical theatre, but not necessarily the right ones. Dramatically their opera sprawls, whereas with a tighter construction and greater character delineation it would be even more potent. Susan Bickley, magnificent as Anna's mother, is saddled with some clumsy narration duties, while Turnage's recurrent Sondheim tropes are that little bit too insistent, with 'Mine, all mine' uncomfortably close to 'Hush, Love, Hush' from Sweeney Todd.
Kudos to the Royal Opera for eschewing cut-glass English and letting people sing as they would speak. That should be the norm in opera; too often it isn't. Kudos, too, for having sufficient belief in this deep tale of shallow lives to give it an early revival. They have been proved right.