A Midsummer Night's Dream (Northern Ballet tour – Norwich)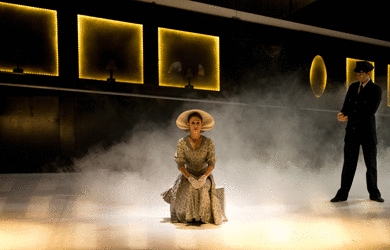 You can take Shakespeare's story as a straightforward comedy, albeit on several levels, lightly dusted by faery magic. Or as an allegory about power within the state with an undertone of the sinister as well as the violent. Or you can do what David Nixon has done for his Northern Ballet company.
This is to put the story within the context of a classical ballet company on tour in the 1940s – think the early days of the Sadler's Wells Ballet. Add some subtle references to the film The Red Shoes which explores the dichotomy between dedication to a career and personal love. So we begin in a studio with the dancers warming up to rehearse Romeo and Juliet.
Hermia, Helena, Lysander and Demetrius are all principal dancers; Hippolyta is the prima ballerina, Theseus the domineering artistic director and Robin Puck the ballet master. The stage manager is a bossy woman, the ASM can't get anything right, the wardrobe master is a mincing beanpole and Nick Bottom is the stage carpenter.
When the scene shifts to a railway station and the Flying Scotsman itself (top marks to designer Duncan Hayler), the Red Shoes parallel comes to the fore. Martha Leebolt makes much of Hippolyta's sad solo as she struggles to accept that Tobias Batley's Theseus wants her as a trophy wife and not as an artist.
Then we're in a fantasy dream world, with sleeping-car bunks high above the stage, a spacecraft winking its way to the moon and the whole dominated by an enormous eye, with station girders and a clock at its heart. Dreda Blow's Hermia is well complemented by Isaac Lee-Baker's cheeky-chappy Lysander.
Bullyboy Demetrius (Giulano Contadini) has a rough-edged pas de deux with Michela Paolacci's clinging Helena. Batley, a raven-haired Aztec inca, has an equally fierce confrontation with Leebolt, a Titania with gossamer wings attended by forest fairies. Nicola Gervasi is a limber Puck, relishing the fools these mortals be.
Mendelssohn's music is coupled with excerpts from Brahms to good effect; there's fine playing by the Northern Ballet Sinfonia under John Pryce-Jones. This is neither a straightforward nor a whimsical version of A Midsummer Night's Dream. But it makes enjoyable theatrical sense from start to finish.
A Midsummer Night's Dream tours nationally until 31 May.