Review: The King and I (London Palladium)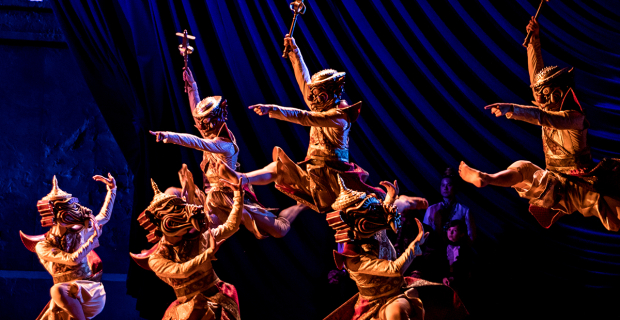 Shall we dance? If Bartlett Sher's glorious revival of Rodgers and Hammerstein's fifth musical does anything, it dances. Glinting and gliding, it waltzes glamorously across the huge Palladium stage with effortless grace.
It also doesn't attempt to apologise for the musical's somewhat dubious racial politics, which appear in the story of English teacher Anna who is brought over to Siam to be tutor to the king's many children. Anna is pleased to discover the country progressive in many respects, but dismayed that in certain others (namely that women are considered secondary to men and that the King can basically do whatever he wants) it's really not. So she goes about teaching them all the 'European' way. It's not entirely explicit that she's the civilising influence Siam needs, but the implication bubbles very close to the surface.
Watching today, there's also a stinging irony in Anna's attempts to make Siam and its ruler more like her beloved Victorian England, which wasn't exactly the best place for women (one look at her corsets will tell you that much). However, Rodgers and Hammerstein's 1951 musical is, in its way, forward thinking, as it portrays characters mainly from Siam (now Thailand) in a positive light and shows a mutual understanding developing between Anna and the King.
The niggles aside, it's very hard not to fall for The King and I, which features some of the loveliest songs in musical theatre, here sung by an absolutely crack cast. "I Whistle a Happy Tune" is a joyful earworm, "Hello Young Lovers" soars with sadness and "Getting to Know You" is an upbeat tribute to finding common ground and mutual respect.
It wouldn't be an overstatement to say that Kelli O'Hara is made for this part. Her acting skills and delicate but rich voice come together to imbue Anna with an engaging compassion and humanity. Listening to her delivering those songs – the majority of them are hers – is hearing them as they should be. Ken Watanabe, making his West End debut here (in fact they both are), is not a great singer but his King is brilliantly funny, sharp and betrays moments of convincing vulnerability. He overdoes it a little in his main song "A Puzzlement", and tips into melodrama. But overall the two make a superb double act, riffing off each other and emanating a genuinely warm connection. Their climactic scene, where King and Anna dance together, her huge skirts flouncing around the stage as they share an almost-romantic moment, is just lovely.
Sher's production is huge, lavish and looks gorgeous with Michael Yeargan's designs and Catherine Zuber's costumes making the stage sing with colour. Act two drags a little, which could be to do with Jerome Robbins' extraordinary original ballet "The Small House of Uncle Thomas" (a kind of play within a play that brings the romantic sub-plot to its head) running for its full 16 minutes. The mixture of ballet with traditional Siamese dance is a wonder to watch, but it does make this already fairly long musical quite a lot longer. Choreographer Christopher Gattelli does do well to recreate the original within this version, however, and the rest of his movement fits flawlessly within the piece.
The supporting cast are all very strong with Na-Young Jeon shining in particular as Tuptim, who has been gifted to the King by the King of Burma, but who loves another. Her voice in "My Lord and Master" is beguiling. But everyone on stage is primed and perfect in a production helmed with expert timing and pace by Sher.
There are uncomfortable moments in The King and I, of course there are. But this is undeniably a beautiful revival, created with care, respect and skill and as a result, it is mostly simply a joy to watch.