Carrie Hope Fletcher, Matt Henry, Jamie Muscato and more to appear in MT Fest at The Other Palace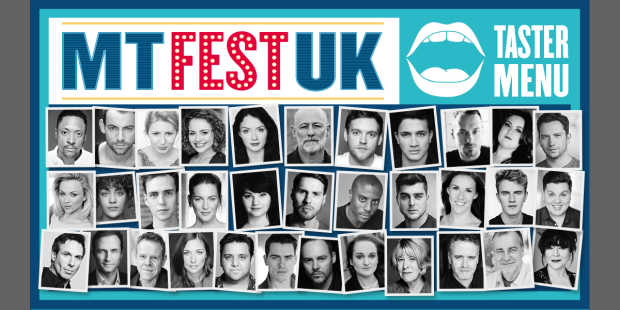 The full casts for the new musicals being presented at the inaugural MT Fest have been revealed.
Overseen by Paul Taylor-Mills, MT Fest is a two-week festival of new musical theatre and will feature a "Taster Menu" series of eight new musicals presented in 45-minute semi-staged productions at The Other Palace.
The casts for the "Taster Menu" musicals will include the likes of Carrie Hope Fletcher, Jamie Muscato, Sophie Isaacs and Nathan Amzi, all of whom recently appeared in the West End production of Heathers the Musical. Other names included in the festival are Christina Bennington and Rob Fowler, both from Bat Out of Hell, Bronté Barbé and Declan Bennett (both of whom recently appeared in Striking 12 at the Union Theatre), Olivier Award-winner Matt Henry, Phantom's Ben Forster as well as students from Arts Ed.
The festival runs from 11 to 23 February, and will also feature solo concerts from some major West End stars and industry-focussed talks to help aspiring practitioners break into the musical theatre world.
You can read a full breakdown of the shows and the casts below.
AA
Penned by the Olivier Award-winning Richard Thomas (Jerry Springer The Opera) and set during an Alcoholics Anonymous meeting, the show will feature Connor Byrne as Irish Bob, Emma Lindars as Abby, Rosemary Ashe as Angela, Dan Buckley as Bar Man, Matt White as Bert, Scott Garnham as Dave, Sooz Kempner as Lena, Declan Bennett as Rickie, Jenny O'Leary as Rose, Scott Paige as Simon and Matt Henry as Twirley. 11 to 13 February
Nerds
This musical, with music by Hal Goldberg and book and lyrics by Jordan Allen-Dutton and Erik Weiner, is every tech head's dream with the likes of Bill Gates, Steve Jobs and Steve Wozniak coming to life on stage. Appearing will be Dan Buckley as Gates, Kane Oliver Parry as Jobs, Scott Garnham as Paul Allen, Oliver Ormson as Wozniak, Bronté Barbé as Myrtle, Jenny O'Leary as Thekla, Scott Paige as Tim, Rebecca Lock as Sally/Oracle and Matt White as Narrator. 11 to 13 February
First Date
First Date, with book by Austin Winsberg and music and lyrics by Alan Zachary and Michael Weiner, is about, as you might expect, a first date. The cast will be composed of Liam Doyle as Aaron, Sophie Isaacs as Casey, Dean John Wilson as Man 1, Natalie Douglas as Woman and Russell Wilcox as Man 2. 14 to 16 February
Porn, the Musical
Expect innuendos galore and some kooky character names in Boris Cezek, Kris Spiteri, Malcolm Galea, Abigail Guan and Brendan Cull's new musical. Billed to appear are Russell Wilcox as Alfred Itchcock, Liam Doyle as Dr Jonny, Natalie Douglas as Mrs Bugeja, Sophie Isaacs as Sandy and Dean John Wilson as Stefan. 14 to 16 February
But I'm a Cheerleader: The Musical
This coming-of-age musical about a high school cheerleader has book and lyrics by Bill Augustin and music by Andrew Abrams. It will feature Bronté Barbé as Megan, Carrie Hope Fletcher as Graham, Jamie Muscato as Jared, Matt Henry as Mike, Ben Forster as Larry, Stephen Hogan as Lloyd and Luke Bayer as Clayton. 18 to 20 February
Bloody Bloody Jessica Fletcher
A crime thriller musical? Yes please! This piece, with book by Kevin Zak, Josh Lamon and Phillip Taratula and music and lyrics by Keith Varney with additional music and lyrics by Lamon, will star Harriet Thorpe as Jessica, Verity Rushworth as Victoria, Connor Byrne as Mr Drake, Jemma Alexander as Lulu, Russell Walker as Seth and Steven Serlin as Tom. 18 to 20 February
The Astonishing Return of… The Protagonists
Superheroes face a major and unexpected threat in Kevin Del Aguila and Michael Shaieb's musical – ageing! The cast will be composed of Christina Bennington as Penelope, Rob Fowler as Voltman, Leo Ihenacho as Dr Zappus, Oliver Ormson as Fishboy and the voice of Nathan Amzi as Narrator. 21 to 23 February
Killer Queen
Tasha Taylor Johnson, Jack McManus and Jonny Wright's show isn't an ode to the famous Queen song, but is actually a mashup of rap, RnB and 18th-century French culture. The cast features Izuka Hoyle as Jeanne, Christina Bennington as Marie Antoinette, Tosh Wanogho Maud as Cagliostro and Leo Ihenacho as Vilette. Given how great history-remix musicals like Hamilton and Six have been recently, we're very excited. 21 to 23 February
Arts Ed students involved in the project are Jessie Angell, Billy Downes, George Griffiths, Ahmed Hamad, Emily Hammond, Emilia Harrigan, Jonathan Hermosa-Lopez and Connor Lewis.
Tickets for all of the musicals are on sale now.