Review: Eugenius! (The Other Palace)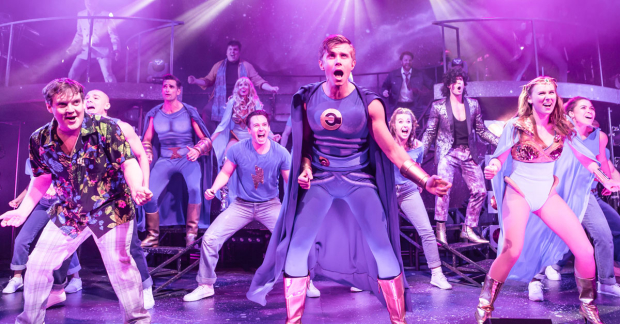 There's an explosion of joy happening in Victoria right now. The reason? The return of Ben Adams and Chris Wilkin's adorable pop musical Eugenius!. This ridiculous, big-hearted cutie pie of a show marries together comic strip capers, sci-fi, 1980s nostalgia, thumping good tunes, obvious but irresistible comedy, and high camp in a caffeinated confection that steamrollers all but the most cynical viewer into submission. Critiquing it is a bit like trying to tame a multi-coloured labrador puppy that loves you: you know there are flaws but mostly you just want to give it a big hug and let it (guitar) lick your face. If you want to see what 300 very happy people look like, head to The Other Palace where the soppy grins and air punches from the enraptured crowd at the end of this daftly, deftly funny romp will convince you, however briefly, that we don't live in trying times. It's a really good night out.
The premise is simple: High School geek Eugene (Rob Houchen, who doesn't fully convince as a teen misfit, but utterly wonderful otherwise) escapes his dislocated existence by drawing sci-fi cartoons inspired by dreams he's been having. They get picked up as the basis for a Hollywood blockbuster, Eugene's life is transformed. It then gets properly weird when fact and fiction collide in ways you should probably see for yourself. The story is preposterous but in Ian Talbot's nimble, lunatic staging it makes its own crazy sense and comes loaded with disarming, occasionally filthy humour.
Aside from the wackiness, there's also a lot of heart here. Eugene's mum is dead and his uneasy relationship with his well-meaning but over-stretched dad (Christopher Ragland, spot on) is conveyed with surprising sensitivity. The bond between Eugene and his best friends – Daniel Buckley's winningly inept, endlessly priapic Ferris and Laura Baldwin as adoring fellow-geek Janey – is also genuinely touching.
Buckley has genius comic timing and the face of an innocent about to make an enormous faux pas, while luminously beautiful but understated Baldwin has a supple, meltingly gorgeous voice. Her quietly strong character is the heartbeat and resolution of a story that, on paper, looks pretty male-centric. Alex Bourne and Neil McDermott are magnificently vivid as a pair of contrasting villains, while Scott Paige is a crowd-pleasing delight as a screamingly camp movie assistant. Emily Tierney and Simon Thomas offer great comedy value as a pair of inept actors cast in Eugene's cinematic epic.
I'd imagine few of the supporting cast were around in the 1980s but they embrace the aesthetic (big hair, neon colours, zero subtlety) with gusto and give 200 per cent to Aaron Renfree's inspiredly derivative choreography (anybody who grew up in that decade will recognise many of these moves). The voices are fabulous too. Musically, the show pastiches the sounds of that decade with considerable wit and flair, and produces a bunch of exhilarating, genuinely memorable tunes. Anybody who hears the title song will be humming it for days afterwards.
If the storytelling gets a bit woolly in the second act, director Talbot keeps it moving at a terrific pace and knows exactly how much tongue should be left in cheek. He also makes a comic virtue out of the budgetary constraints (think wobbly model spaceships and wonderfully tatty frightwigs) although the superb sound design and Andrew Ellis' rock stadium lighting come across as anything but cheap.
It is so much fun, it feels like the next Rocky Horror but with bigger synths and ends with one of the most spontaneous standing ovations I've ever seen. Eugenius and euphoria share the same first two letters: just saying. It's a life-enhancing triumph, and I suspect it'll be around a lot longer than this limited season.