Average premium ticket in West End costs almost £100, survey reveals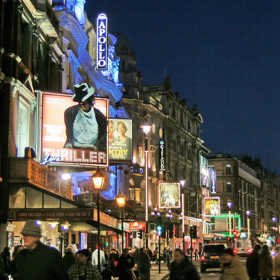 The Stage newspaper's annual survey of ticket prices in the West End has revealed that the average price of a top-price ticket is now £99.78, up from £95.09 last year.
There are now five shows in the West End with premium tickets priced at £100 or more: Charlie and the Chocolate Factory (£100), Wicked (£100.75), Bring Up the Bodies (£115), The Lion King (£125) and the most expensive, The Book of Mormon (£152.25).
The average cost of bottom price tickets across the West End fell to £20.36, down from £21.07 last year, with the biggest bargain coming courtesy of The Commitments, where the cheapest tickets are £12.50.
By comparison, a top price ticket at the Odeon cinema in Leicester Square is now £22.50.
Other heartening news is that the average cost of 'extra fees' (those not made clear to the customer at the first step in booking) has fallen by nearly a pound to just 32p.
The average price paid for a ticket in the West End in 2013 was £40.14, according to official Society of London Theatre (SOLT) figures.
Jonathan Brown, chief executive of the Society of Ticket Agents and Retailers, told The Stage: "We know from the growth of the ticket resale market that customers are prepared to pay a high price for sought-after tickets.
"As the technology science and commercial wisdom behind the dynamic pricing find their place in theatre ticketing systems, there's no doubt we are going to see an increase in flexible pricing models in the next few weeks."