Cats (Stage Experience – Liverpool)
This year Stage Experience returns with Andrew Lloyd-Webber's most successful musical, Cats.
Based on T.S Eliot's Old Possum's Book Of Practical Cats this production is unique in that it is centred around the felines, and the world they live in.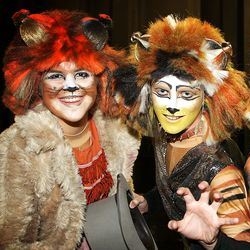 We get to see the way that they go about their lives, their fantasies and dreams. There is drama and plenty of weird and wonderful characters, as well as a bit of romance thrown in.
This is a very strong cast and as is the nature of the show, requires strong vocals as well as good dancers. There is no letup as the pace is fast and the 100+ cast do well to place themselves on the huge Empire stage.
There are many songs, but "Memory" is perhaps one of the most famous, and Grace Galloway as Grizabella steals the show with her rendition.
Also good are Cameron Patmore who plays Skimbleshanks and another audience favourite is Jonathon Marsh who plays Munkustrap brilliantly.
This production is all about the costume and makeup that help create the plethora of characters and wardrobe mistress Debbie Spedding has done a fine job.
Choreography is of course key to the success of this piece and hats off to Lauren Taylor and director David McNeil who have both managed to create a very visual and atmospheric production that shows off the skills of so many talented young people.
There were many proud parents and friends wiping a tear way, and quite rightly. Stage Experience's production of Cats is a very well directed show and an experience that these young people will never forget.
Cats is at the Liverpool Empire until 23 August.
– Janie Phillips