Untold Stories (West Yorkshire Playhouse)
The Alan Bennett season at West Yorkshire Playhouse is focussed not on the blockbusters such as The Madness of George III and The History Boys, but on shyer reflections of Leeds, a life more ordinary and Bennett himself.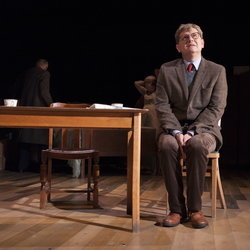 Untold Stories is Bennett at his most autobiographical. A short first half, Hymn, deals with his relations with music as a child and youth (notably his father as violinist and his own failure in that respect), with some later reflections on churches and the community. Cocktail Sticks is more substantial both in length and in its treatment of the relationship between Alan and his parents. Starting from his complaint that nothing unpleasant happened to him to give him material for his writing, it progresses to the telling insight, "You don't put yourself in plays; you find yourself in them."
Bennett is a master memoirist and these two plays could be staged simply as monologues or readings from Bennett, but the evening would be shorter, less funny and less moving. The added extra for Hymn is the music of George Fenton, played by the Ligeti Quartet with a confident control of genres, from the Palm Court to the church, from Henry Hall's dance band to young Alan's scrapings. Reece Dinsdale as Bennett has to aim for a perfect facsimile of the original and gets the manner and the timing precisely, but is less secure on finding the right pitch and comes across as a little too querulous.
Is it the presence of other actors to bounce off? Maybe, but certainly after the interval Dinsdale is the man himself. The self-deprecating manner, the wry irony that sets off bombs we never see being planted, are both impressive, but best of all is the control of tone that chimes with Bennett's own: we laugh at things that maybe shouldn't be funny, but Bennett/Dinsdale decides when the laughter stops.
Cocktail Sticks is a roughly chronological ramble through Bennett's relationship with his parents, highly entertaining in presenting their failure to connect with ordinary life, frank and serious in its treatment of family loyalty, depression, dementia, cancer and even death, despite the irreverence of the re-appearance of the deceased Mr. Bennett, as solid and butcherly as you like, to converse over a cuppa.
In Mark Rosenblatt's unpretentious production Kate Anthony and Simon Roberts do yeoman service in a wide variety of roles. John Arthur has a memorable double: as Dad, with his violin, his allergy to alcohol and his distaste for company, and the clubbable academic Nevill Coghill. The other outstanding performance, beside Dinsdale's, comes from Marjorie Yates, trailing a cloud of unknowing as Mam long before the dementia sets in.
Untold Stories continues at the West Yorkshire Playhouse until 21 June 2014.