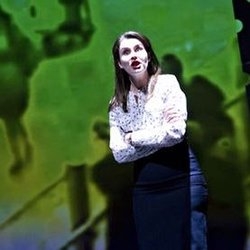 To coincide with the revival of Gounod's Faust in the main house, The Royal Opera has commissioned two works which have been presented in the Linbury over the last week. I was unable to attend the second of these, The Crackle by Matthew Herbert, but was fortunate enough to catch Luke Bedford's Through His Teeth, a tense, brilliantly evocative piece which at fifty-five minutes' length keeps the audience gripped from start to finish.
Based on the Faust legend, David Harrower has taken a true story, changing some of the details along the way to make it more theatrical and in the process has delivered a taut, contemporary tale that packs a terrific punch. Bedford has shown consummate skill in setting Harrower's matter of fact text to music with conversational ease – indeed it's a long time since a new opera has made such a monumental impression as Through His Teeth, and this is down to Bedford's brilliant score, orchestration and innate ability to concede that less is often more.
Scored for eight players – here the superbly articulate Chroma ensemble, Bedford has written for his forces sparsely yet the results are evocative, chilling and more importantly help propel the story to its inevitable conclusion. Not a note is wasted, and that's not something you can say about most new operas. The canny use of an accordion adds depth to the otherwise linear score, and they way he evokes an atmosphere of foreboding through the simplest of means – quarter tones here, a brief trumpet riff there, reveals him to be a theatrical composer of immense talent.
The opera unfolds in flashback as a woman, simply introduced as A retells her story to a journalist live on air. She's been drawn into the murky world of a supposed car salesman, known as R, who is hiding a dark secret. Warned by her sister to stay away from him, his magnetic allure proves to be too much for the woman.
As A, the woman, Anna Devin delivers a tour de force performance whilst doubling the roles of her sister and TV interviewer Victoria Simmonds switches between the two personas with skill and dexterity. As the car salesman Owen Gilhooly manages to combine sexual allure with fanaticism to chilling effect, and all three of them manage to get Harrower's text over with astonishing clarity.
In the pit Sian Edwards draws every last ounce of menace out of Bedford's score, whilst Bijan Sheibani's staging is both cinematic and fluid. It's a shame that Through His Teeth has only been scheduled for four performances as it deserves a far wider audience. An unqualified success, Through His Teeth looks set to become a modern classic, and is certainly the most ambitious and successful of recent new operas that have been seen on the London stage.