The Curious Incident of the Dog in the Night-Time (Gielgud Theatre)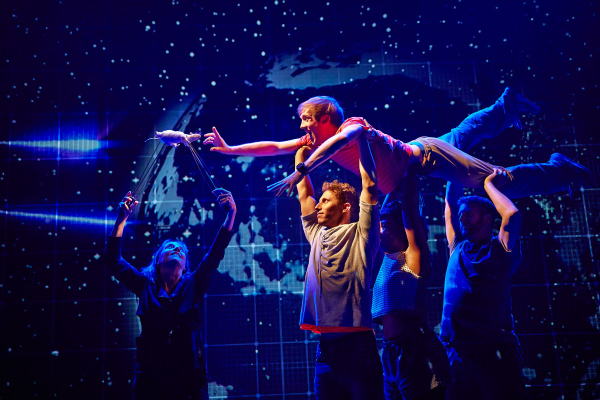 Simon Stephens' adaptation of Mark Haddon's award-winning novel, which has recently made its way onto the English GCSE syllabus, is back and better than ever following its hiatus after last year's incident at the Apollo Theatre.
Marianne Elliott's production, which originally garnered plaudits galore when it opened at the National Theatre in 2012, resumes its run at the Gielgud, bringing with it the nimble direction and extraordinary creative flair that won critics over the first time round.
Graham Butler plays Christopher Boone, the role originated to award-winning effect by Luke Treadaway, a 15 year-old with Asperger's who, on discovering his neighbour's dead dog, embarks on a detective mission that brings him much more than he's bargained for.
Butler, whilst not having the same physical intensity as Treadaway, totally captures the quirks and unique behaviour that defines his interactions with others. He achieves moments of humour, tenderness and pride throughout, and I could rarely take my eyes of him.
The whole production plunges us into Christopher's world, from the storytelling (a calm and collected Sarah Woodward as teacher Siobhan acts as narrator), a clever play-within-a-play nod to the novel which is written as by Christopher himself, to the claustrophobic sounds, lights and projection that take over any time Christopher is overwhelmed.
Ultimately, this is a play about family, and Emily Joyce and Nicolas Tennant play Christopher's parents with a perfect mixture of frustration and short-temperedness yet unquestioning love for their son.
The first act loses some intimacy in the space of the Gielgud, but this is more than made up for in the second – at one point Bunny Christie's marvellous geometric set becomes a claustrophobic underground station, which with Paule Constable's lighting, Finn Ross' video and Ian Dickinson's sound design make for a stand out scene.
Scott Graham and Steven Hoggett's movement direction remains slick as ever, and there are clever little touches dotted throughout, from a dream sequence that sees Christopher (and his pet rat Toby) floating in space to a triple-speed ensemble highlighting an elderly neighbour's sluggishness.
There are great supporting performances as well; special mention must go to Victoria Willing, who gets some of the biggest laughs of the night, and Daniel Casey's 'evil' Mr Shears.
Overall, deft comic touches mix fluidly with heartfelt emotion and with design that is second to none; I once again found myself completely sucked into Christopher's world. He asks at the end of the play, after all of his achievements thus far: "Does that mean I can do anything?" I think, maybe, he can.