The Cunning Little Vixen (Peacock Theatre)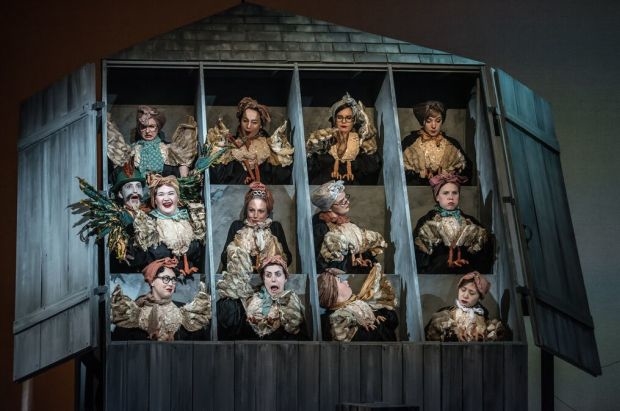 What's in a name? A thousand misapprehensions, I'd say. Most organisations with 'Youth' in their title serve the development of teenagers (NYT, NYO, NYMT…) but
British Youth Opera
showcases the finished product: young professionals on the cusp of their careers. Perhaps that, together with notably poor pre-publicity, explains why this musically splendid account of
The Cunning Little Vixen
drew only a moderate crowd on opening night, with a goodly proportion probably made up of family, friends and invitees.
Notwithstanding Janáček's determination to depict what he termed in 1924 "the merry-go-round of life", the adventures of Vixen Sharp-Ears are a world away from Disney — even though a strong vein of anthropomorphism characterises the opera's leading lady with a taste for fresh hen.
Stuart Barker's direction of this trippy, scenically tricky work is compromised by a wayward visual vocabulary. What are we to make of a woodland where chickens look like chickens in a coop-like coop but the mammals vape and read Vogue, or else pour whisky from a cut glass decanter? As for the puppet-insects with human faces, they're only a body-shock away from Jeff Goldblum in The Fly. The inconsistent aesthetic of Simon Bejer's designs is a constant distraction.
The decision to present the animals as 95% human, only differentiating them from homo sapiens by tails and ears, all but lifts the natural world out of the picture. And dressing this middle-class wildlife in colour with the humans in black-and-white, City of Angels-style, leads to some conflicted imagery, as when a burly, ghostly male manhandles a young girl from behind and drags her away.
'Fine young animals'
Yet there's plenty to enjoy as well. Janáček described his opera as "a merry thing with a sad end", and Barker has fun with the former even if the latter foxes him. And his company does him proud.
In a cast of fine young animals nobody falls short and several stand tall. Take William Wallace: a name to conjure with and a voice to remember. He is a distinctive, clarion-like tenor in the mould of Ian Bostridge or Anthony Rolfe Johnson and he's quite wonderful in his brief appearances as the Schoolmaster. And Kieran Rayner is a strong young baritone; it's hardly his fault that his voice isn't yet sufficiently lived-in to deliver all the colours he needs as the Forester.
Hazel McBain sings with marvellous, tireless élan in the title role but her physical acting is trumped by Katie Coventry, a magnetic mezzo who excels as the foxy bit of forest rough who sidles into her affections.
There are no surtitles but Norman Tucker's standard English translation is served well by some excellent diction. Since the vocal coach is no less a figure than Sally Burgess, that comes as no surprise. Lionel Friend brings his years of expertise to bear as he leads the Southbank Sinfonia in Jonathan Dove's reduced orchestration (a canny job of work whose only obvious shortcoming is the lack of amplitude of Janáček's string tuttis). What a consistently musical conductor this former ENO staffer still is. He should be frogmarched back to the Coliseum pronto.
BYO's second offering opens on Wednesday: it's a rare double bill of Vaughan Williams's Riders to the Sea and Holst's haunting Sāvitri. There's precious little else happening on the opera front next week, so — and I mean this in the nicest possible way — you know where to go.
There are further performances of The Cunning Little Vixen on 8 and 11 September.