Review: The Prudes (Royal Court)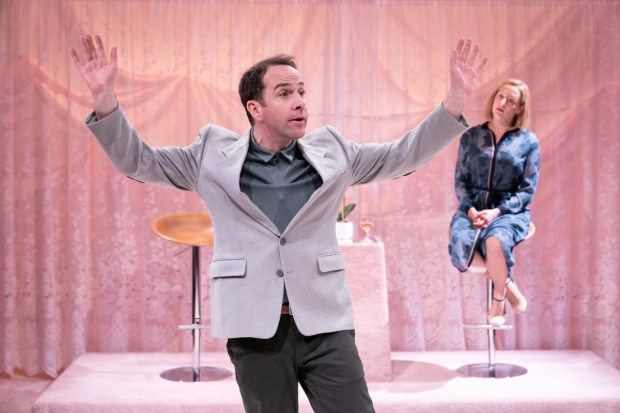 The Royal Court has been something of a pivot point in the ongoing storm around the abuse of power, sex and influence in the theatre industry. And the reaction to women vocalising their experiences louder and louder has been – from both men and women – a little varied, to say the least. Rogue playwright and director Anthony Neilson's new piece distils some of those reactions and issues in his new play The Prudes, squeezing them into the micro-climate of a relationship. He offers up a couple struggling with their sex life – or lack of it – who have decided to go through a kind of freaky therapy session. They haven't had sex in 14 months and now, right now, is the time to fix that.
In terms of tricksy subject matter, Neilson's play starts small, and gets big. Very big. The piece opens with a blast of the R Kelly song "Bump N' Grind" and on come Jess and Jimmy, through designer Fly Davis' kitsch net curtains, over the pink lush pile carpets to sit on stools at the back of the stage. It feels a little like a horribly awkward gameshow.
It's not a gameshow, however, Jess and Jimmy are there to publicly explain how they've not been having sex for over a year and how they are fed up with it. Today is the day that changes. But before they can get down to business, each of them shares a little bit more about themselves, about what got them to this place and about what they really think of each other. They talk to each other, and to the audience: "You can leave at any time," they tell us at one point. And eventually the revelations and secrets harboured in their relationship – the pushes and pulls, the love and hate, the irrationality – build up and up. It's mortifyingly funny in moments, like when Jimmy rants to the audience about how Jess' flip flops were a total turn off when they went on holiday, before realising that Jess has actually heard everything he said. "It's fine", she says, "I only wore them because they were a freebie from Cosmo".
And Jimmy in particular is a horribly on point portrait of a man trying too hard to be a feminist. "No one hates the patriarchy more than me", he say. And later he asks Jess to start talking so he's not the awful man in the room who speaks over all the women. But when we become increasingly aware of a fairly intense, uncomfortable series of events in Jess' past life that may, or may not, have led to the couple's period of celibacy, we begin to see just how self-centred he is.
The Prudes gets as meta and playful as you'd expect a Neilson play might, and Jonjo O'Neill and Sophie Russell are the beating heart of it. Each have a brilliant fake façade, neither of which seems to crack, until you realise it fell to pieces ages back. Russell's Jess has a building fury, which bursts out in short, sharp ruptures at first, then in more and more hilarious, sweary outbursts. In the final part of the play she is just palpably and awfully fed up.
Ultimately, I felt the piece pulled its punches at the end, offering a somewhat simplistic kind of closure. Still, The Prudes is likely to make you cringe with laughter. It's a damning, riotous and occasionally raw glimpse of the upheaving dynamics of men and women today.