Royal Court 2018 season to feature Debbie Tucker Green and Mark Ravenhill premieres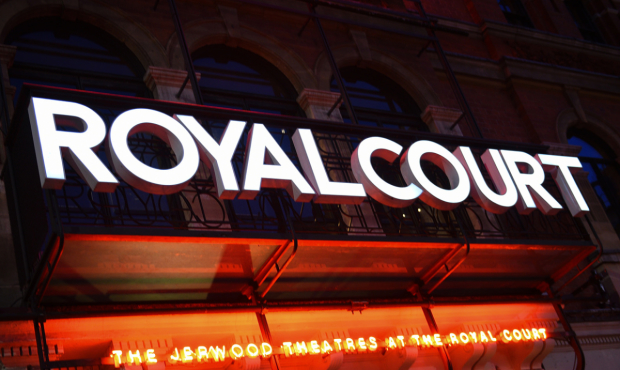 The Royal Court has announced its line-up of shows for the remainder of 2018 and into 2019.
Mark Ravenhill (Shopping and F**king) will return to the Royal Court with the world premiere of The Cane, staged by the venue's artistic director Vicky Featherstone. The piece follows a teacher about to retire, Edward, whose house is besieged by an angry mob of students. It runs from 6 December to 26 January 2019.
From 25 October to 24 November, Debbie Tucker Green will return to the Royal Court's downstairs space with Ear for Eye, which reflects on Black British and African American identity. The writer previously performed A Profoundly Affectionate Passionate Devotion to Someone (-noun) at the same venue in March of last year.
Rory Mullarkey (The Wolf from the Door, Saint George and the Dragon) will return to the Royal Court with his new play Pity, directed by associate director Sam Pritchard. The show will run in the Jerwood Theatre Downstairs from 12 July to 11 August and questions modern sensibilities about everything getting worse in the world.
The venue's associate director Hamish Pirie (Goats) will direct Thomas Eccleshare's Royal Court debut, Instructions For Correct Assembly, between 7 April and 19 May. The piece follows a couple trying to perfect the art of parenting and will run in the Jerwood Downstairs theatre. Eccleshare's previous work includes Heather at Summerhall Roundabout.
Anthony Neilson will return to the Royal Court to direct his new play The Prudes at the Jerwood Theatre Upstairs, about a couple trying to save a relationship by rejuvenating their sex life. It runs from 18 April to 2 June.
James Macdonald will direct Cordelia Lynn's One For Sorrow at the Jerwood Theatre Upstairs from 20 June to 11 August. Set during an attack on London, the piece interrogates our ideas of security and refuge in the modern day. The play was the 2017 Pinter Commission, an award given annually by the Harold Pinter's widow, author and historian Antonia Fraser.
Ellie Kendrick makes her Royal Court writing debut with Hole, directed by Helen Goalen and Abbi Greenland of RASHDASH Theatre. Running at the Jerwood Theatre Upstairs from 28 November to 12 January, the piece discusses the ways in which power is created, using word, music and movement.
Robert Alan Evans returns to the Jerwood Theatre Upstairs with his new play The Woods, directed by Royal Court associate director Lucy Morrison. Set in a cabin deep in a snowy forest, the show runs from 5 September to 13 October.
Once again, the Royal Court will partner with LIFT to present Belgian theatre maker Lies Pauwels' Happiness Always, presented by a cast of gender non-conforming young people and explores the paradoxes that exist between gender and sexuality. A second project by a major artist will be announced as part of LIFT 2018 in late February.
Deborah "Debris" Stevenson will present new work co-commissioned with 14-18 Now, in association with Nottingham Playhouse and Leicester Curve, from 21 September to 6 October.
In spring 2019, Indian playwright Abhishek Majumdar's Pah La will run in the Jerwood Theatre Upstairs, with full dates to follow. Last week, news emerged that the show had been postponed due to funding.
Ola Ince has been invited to programme a season in the theatre's experimental next-door space The Site, with details to be released.
Casting for all the productions in the season is to be announced.
Featherstone said: "Our new season for 2018 combines a thrilling range of playwrights and theatre artists,
fearlessly, angrily and often very humorously exploring power and control, identity and gender, and the major failure of the echo-chamber of liberalism."
The venue will also open a new bookshop in collaboration with publisher Samuel French.