Review: Derren Brown: Underground (Playhouse Theatre)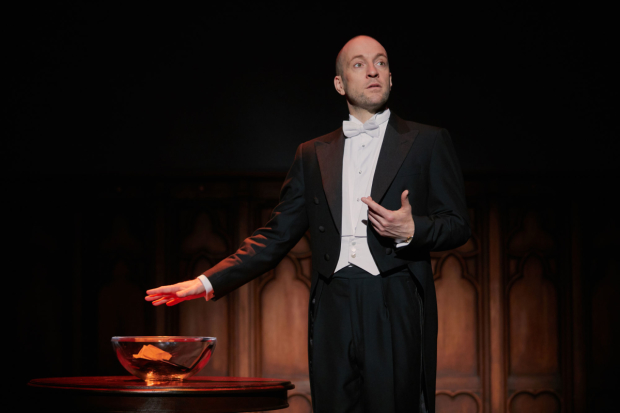 'I will not read things out because I am told to,' the audience of Derren Brown's latest show find themselves chanting in unison at the beginning of the night. Everyone laughs, of course, but the way Brown gets everyone to do that is a window onto how the magician and mind reader extraordinaire manages to make us gasp so easily. He dresses up misdirection and subtle suggestion with an air of mystery. But really he's just a guy making us do stuff we weren't planning on doing.
That's not to say this show isn't genuinely surprising. In parts it is mind-boggling and the good old fashioned thrill of being in a room with a man who appears to be able to read minds is absolutely in force here. Even if you're a sceptic – and I absolutely am when it comes to magic – you can't help but marvel at the way Brown manipulates and performs. He's a showman at heart and it's completely enjoyable to watch.
The refreshing thing about Brown is that though the show is entertaining, he isn't interested in all the pomp and circumstance you might expect from your average magic show. There are no poofs of smoke, no disappearing rabbits here, it's just a balding man, on a stage in a suit, talking to the audience. It's that connection with the audience which makes Underground work so well. A mash up of his past shows – 'The Best Of' Derren Brown – it relies heavily on audience participation. A woman gets teary when she is handed a memento of her lost grandmother, another looks visibly wobbly after Brown puts her to sleep, another's head sags in front of us as Brown waves his arm over her. We are a vital part of this performance and Brown is the arch puppeteer.
Really, it's fairly easy to work out how Brown does most of his tricks, and he is never shy about the fact that he's essentially a trickster. But it's the way everything is presented that's so neat. Simple sleight of hand card tricks are turned into bigger show pieces making them all the more discombobulating.
There's little new here, as Brown himself would attest but in his hands it all feels fresh. He's amenable, friendly, he talks about his personal life, he leads us into a sense of security and the way he executes his tricks is so precise. It's all about the little things – "hold my shoulder harder, more pressure", "put your arms out lower", "take one step to the right" – he's constantly adjusting the audience participators as if the way they stand may have a bearing on the trick itself.
There are a lot of laughs too, not least from some of the audience revelations – secrets which are extracted by Brown's apparent mind control. Will the couple in the stalls break up after last night? Who knows, but she looked more than a little put out by his admission that he'd kissed all their male friends behind her back.
In a way, the show is a love letter to all the classic Victorian magic tricks, a simple show which relies on storytelling, sleight of hand and showmanship. It verges on an exposure of all the mediums who claim their powers are unearthly. But at the same time it taps into how these tricksters hoodwink vulnerable people and plays on that, continuing to keep us all fooled.
Derren Brown – Underground runs at Playhouse Theatre until 14 October.