Old Times (Theatre by the Lake, Keswick)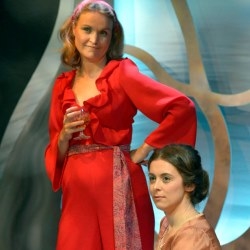 The title of Old Times summons up the nostalgic phrase 'just like old times'; but what if you can't agree on what those 'old times' were, let alone what it would mean for what's happening now to be 'like' them?
Pinter's play focuses on a reunion over dinner between a married couple, Kate and Deeley, and an old friend of Kate's, Anna, who she has not seen for twenty years. As the evening progresses, it becomes clear that nothing is, or perhaps ever has been, clear.
Characters subtly and not-so-subtly confront, manipulate, insult and contradict each other; but offence is never taken, at least on the surface. We think we know how human interaction works; but this is like trying to follow a grandmasters' game when you hardly know the rules of chess.
We know what the characters are saying, but not what they are doing in saying it. At the end of the play Kate says to Anna 'I remember you lying dead'; Anna never replies. Is Anna dead? Has Kate 'remembered' something she has fantasised? Is Anna even there, or are we now out of the 'real' world entirely, in something 'like' old times?
The plot may be slippery, but Pinter's mastery of tone (particularly menace and, thankfully, comedy), and his ability to hold the most commonplace language up to the light so that we see it from another angle, provide plenty of traction for this talented cast.
Liam Smith brings an ever-vigilant charmlessness to Deeley; for him, relationships are all about a power-balance which might at any moment alter against him. Just how powerful he might be is kept superbly under wraps in a performance which keeps the audience guessing.
Katie Hayes is quite mesmerising as Anna, poised, fluent, polished – but ensuring that we see that the stakes are high for her as well.
Rebecca Todd's Kate is initially almost demure, introverted, and self-sufficient, continually half-smiling to herself, someone conforming to what others have made of her; but she has been listening, and her final turning of the tables is both believable and chilling.
Director Mary Papadima ensures that Pinter's famous pauses have room to breathe without suffocating the action, and pacing and emphasis are spot-on.
Anna Pilcher Dunn's set and Jo Dawson's lighting design suggest an uncanny blend of chic seventies suburbia and otherworldly expressionism which becomes ever more relevant as the play progresses.
TBL has produced a gripping and intense production of a modern classic.
Old Times is at the Theatre by the Lake until 8 November.